Ex-Slayer drummer Dave Lombardo has posted a short personal tribute to the late Jeff Hanneman on his official Facebook page.
Read his post below:
This picture was taken at the Troubadour in Hollywood around 1982. Jeff was the guy that shaved his head and shared the music he was so inspired by. I enjoyed Dead Kennedy's, Circle Jerks, Black Flag and the Germs with him. My drumming was getting faster and Jeff was writing original songs with a Punk attitude. The fusion of Heavy Metal and Punk took over Slayers early mediocre style, hence a new force was born. Thank you Jeff for your inspiring discovery of Punk rock that has continued to shape my personal drumming style.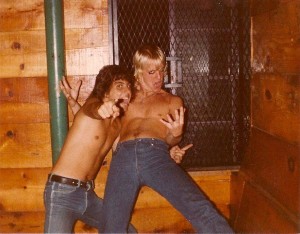 Slayer's founding guitarist Jeff Hanneman died earlier this month due to liver failure. Read the bands official post from the announcement of his death here.