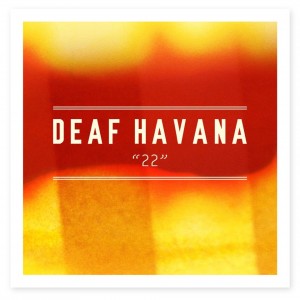 Deaf Havana have announced the release of their new EP '22' – due on June 29th. The 4-track digital EP isnamed after the track from their critically acclaimed album 'Old Souls'. The EP will feature the track '22' as well as two brand new tracks previewed in part on their 'English Hearts' documentary, 'Whiskey' and 'Drive All Night (English Hearts'), and an acoustic version of 'Kings Road Ghosts', another track from 'Old Souls'.
Speaking of track '22', singer James Veck-Gilodi says, "22 is a song I wrote on a van ride from Amsterdam to somewhere in Germany, after an extremely odd night, involving some things it probably shouldn't have. I woke up wondering how I was still alive and feeling like I wasn't, I couldn't stop panicking and freaking out, it was awful. I don't look after myself on tour so it's definitely partly my fault, but I guess that's my way of dealing with it. The "you" I'm referring to in the chorus isn't actually a person, it's a personification of touring. That's essentially what 22 is about, feeling old beyond your years due to not looking after yourself well enough on tour."
Catch Deaf Havana live on the main stage at this years Reading and Leeds festivals.
Pre-ordered new EP '22' here: https://itunes.apple.com/gb/album/22-ep/id881509523
Video: Deaf Havana – '22'