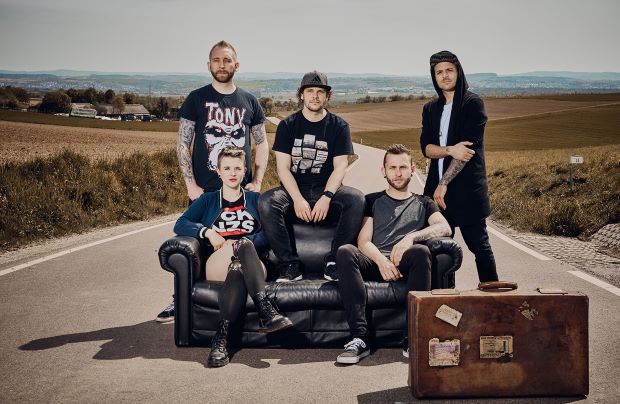 Combining punk rock, German rap, alongside elements of indie and ska to the mix is Die Grüne Welle, whose literal translation is "The Green Wave". Their latest album Wirf Dein Leben Weg has just been released on Drakkar Entertainment.
Wirf Dein Leben Weg can be interpreted as "Throw your life away!" so from that maybe you can get where the band is coming from.
They want people to reconsider both personal and political opinions, actions & habits and in so doing, appreciate differing viewpoints, even though they might not like them.
"In our (German) society one is surrounded by many conventions. The same goes for general stereotypes that seemingly need to be embraced. Whether you can and want to embrace them is up to you though," declared the band.
"Additionally, there's a lot of shit happening that you just can't ignore, e.g. the increasing swing to the right. So, it's just important to stand by your own opinion with valid arguments and not always go with the flow!"

Originally founded as a hip-hop project between two friends, things took a while to take shape. In 2013 debut album Badabäääm! was self-released years, the more mature Macht Blau following in 2015 alongside shows through the entire German-speaking corners of the world.
Following some line-up changes Die Grüne Welle now featuring Haiko Niewerth (Vocals,bBass), Sven 'Locke' Juhrich (Rap), Andrea 'Alvin' Banchi (Guitar, vocals), Lizzy Stracke (Saxophone, vocals) and Leon Huber (Drums) went in the studio to record Wirf Dein Leben Weg with renowned producer Florian Nowak (Emil Bulls), alongside guest contributions from Axel Kurth (Dämonen) and Weekend (Kein Problem).
Self-ironic lyrical exaggerations over energetic punk rock elements are the result, and available on both CD/DVD and vinyl featuring the following tracks: 'Hier im Dreck', 'Dämonen', 'Bier Gegen Wein', 'Wutbürger', 'Kein Problem', 'Wirf Dein Leben Weg', 'See You In Hell', 'Teilzeitchrist', 'One Love', 'Gesternmorgennichts', 'Für Die Massen' and 'Knopfdruck'.