Red spotlights shine down from on high, crisscrossing across the stage as Steve Hackett and his band walk on collectively. The guitarist sporting a red scarf, gold Les Paul and otherwise black apparel. As apparently are the rest of those on stage – The in-look for rock acts no longer in the first flush of youth, offering as it does a slimming effect, none of them actually need it and they'll prove quite a sprightly bunch for prog rockers tonight.
To one side of the main man are the reliable hands of Roger King (Keyboards) and Rob Townsend (Saxes, flutes miscellaneous percussion, keys and backing vocals), and vocalist Nad Sylvan who spends a good amount of time on stage tonight rather than what's in the past felt like guest appearances.
Across the stage sits new blood in the form of drummer Craig Blundell whose kit seems to be perched lower than the average skin-beater's allowing a good visual representation of his work, and beside him The Flower Kings' Jonas Reingold on bass. From this distance they could pass for brothers.
They open in collective harmony affecting a sunny almost Beatles by-way-of Kansas rendition of 'Every Day' but it's the casual manner by which Hackett slides a finger of the right hand up the fretboard making it whistle sonically that makes this unique. Green lights join the red as guitar and sax solo away, Townsend and Reingold turning sideways as they pull in towards their band leader before parting on cue. Blimey, rehearsed stage performances? Someone wave a vintage vinyl edition of Selling England By The Pound over that old prog fan before he has a heart attack!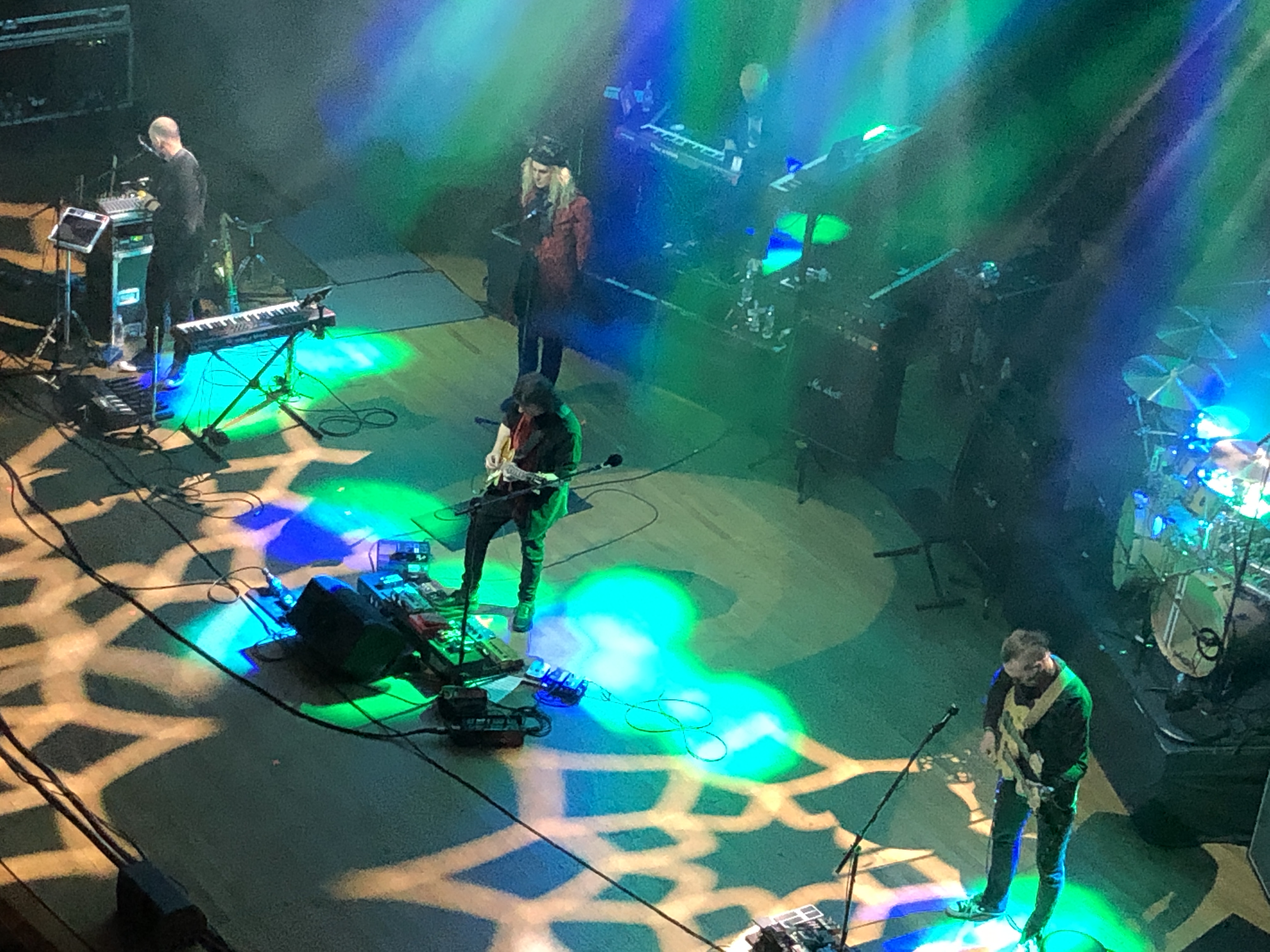 As white lights begin to shimmer over the audience Mr Hackett greets us and promises: "Three albums' worth of stuff!" He jokes that we'll have to suffer some newer works but he's one of the few acts out there gigging regularly who can still draw attention with his more recent work. Thus, we get 'Under The Eye Of The Sun' from his latest album, with a long intro where it sounds like both guitar and bass play arpeggios before circular back lights peer out like giant eyeballs from some freaky sci-fi movie, shifting in colour between pink and green.
Hackett doesn't just pluck his strings, every nuance of both his left and right hand affects some tonal or emotional effect. Taking on jazzier textures prior to an echo-drenched solo as yellow lights flood the audience in warmth on the song's conclusion.
'Fallen Walls & Pedestals' and 'Beast In Our Time' are played one after the other – Off-kilter prog jazz with sleazy blues and nigh-Arabian licks blur into a slow waltzing drunken blues, it then becomes hymn-like with flute added before, gently, like a mouse, Hackett's fingers race up and down the fretboard then unleash heavy notes of fury.
"The show isn't all bluster," he tells us as an acoustic is brought on stage, followed by his brother John as special guest and we're informed that we're about to hear a two fluted rendition of 'The Virgin & the Gypsy'. For this Blundell comes to the front of the stage to add backing vocals and supply percussion, while Reingold takes a seat rather than carry the double necked 12 string & bass now wrapped round his neck. Gentle and melodic its lyrics put the listener in a festive Christmas mood.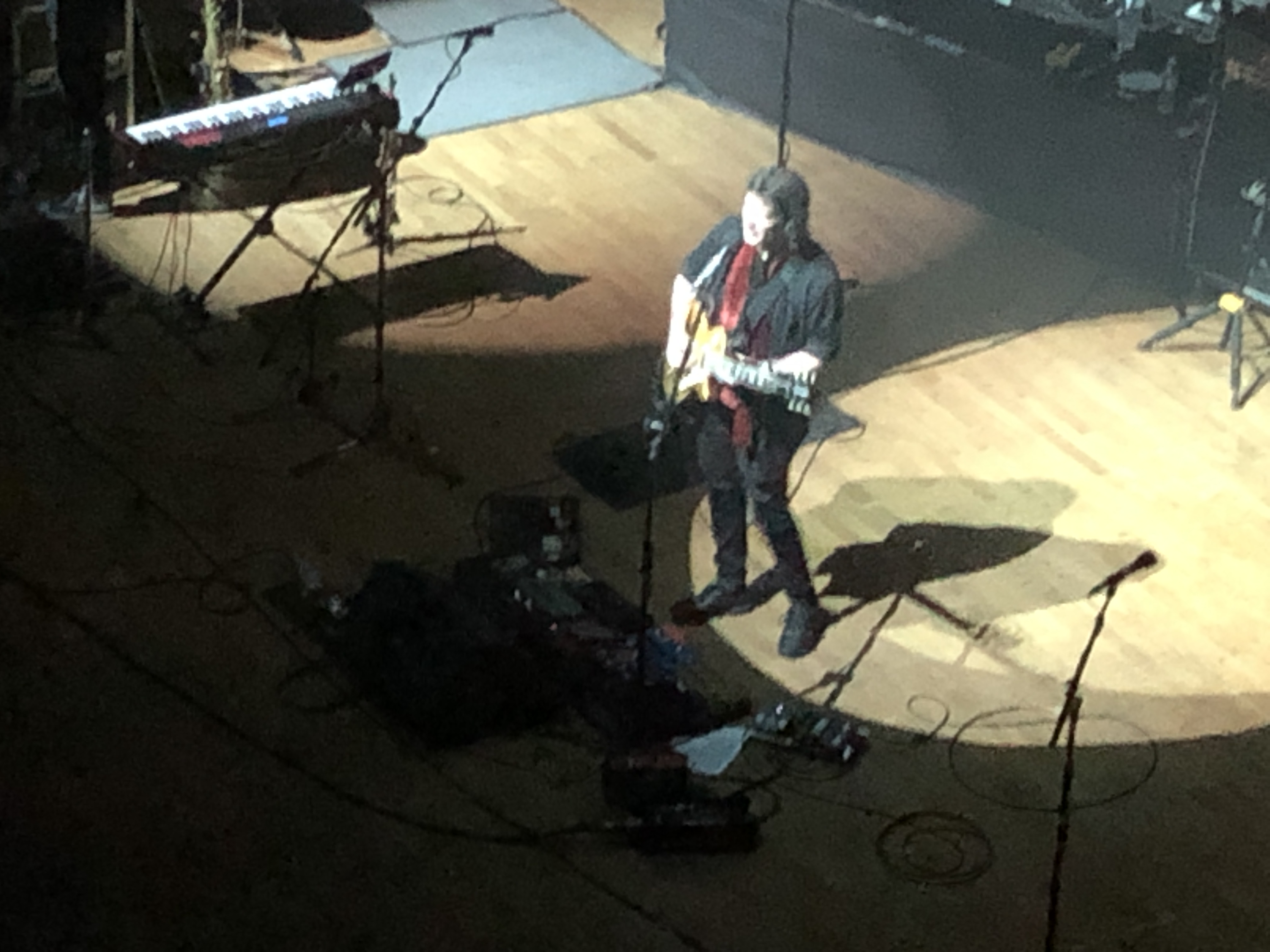 Next is the musical muscle of 'Tigermoth' with bomber planes appearing on a backdrop behind the band, on a role they launch into a splendidly expressive version of 'Spectral Mornings' with Hackett's guitar searching, ebbing and aching in blissfully emotion – Prior to playing it he mentioned the charity vocal version featuring Big Big Train and how the original version also had a  set of lyrics, and in his own mind it had been something akin to "Randy Newman meets Elton John" but his band of the time had nixed the idea, suggesting it be a guitar instrumental. They were right.
On a high now, sitting well with the previous numbers but heading towards a climax we get 'The Red Flower Of Tachai Blooms Everywhere' followed by the classic 'Clocks – The Angels Of Mons' wherein Blundell's drum solo is distinctive and different, proving him to be an apt replacement for Gary O'Toole.
And there endeth the first part. With building work currently being undertaken at the Symphony Hall and International Conference Centre those seeking toilet facilities have a long walk ahead of them, those requiring refreshment a long queue at the reduced size bar. I happily spend the next twenty minutes in cordial conversation to the gents seated either side of me; Keith who's been following Hackett's new millennium return in popularity at various ever larger venues, and Steve who it transpires organises the Fusion Prog Festival. Time well spent but now we prepare to travel back to 1973 when Selling England By The Pound was first released as Steve Hackett and his band play it in its entirety, in chronological order but with some added extemporisation too.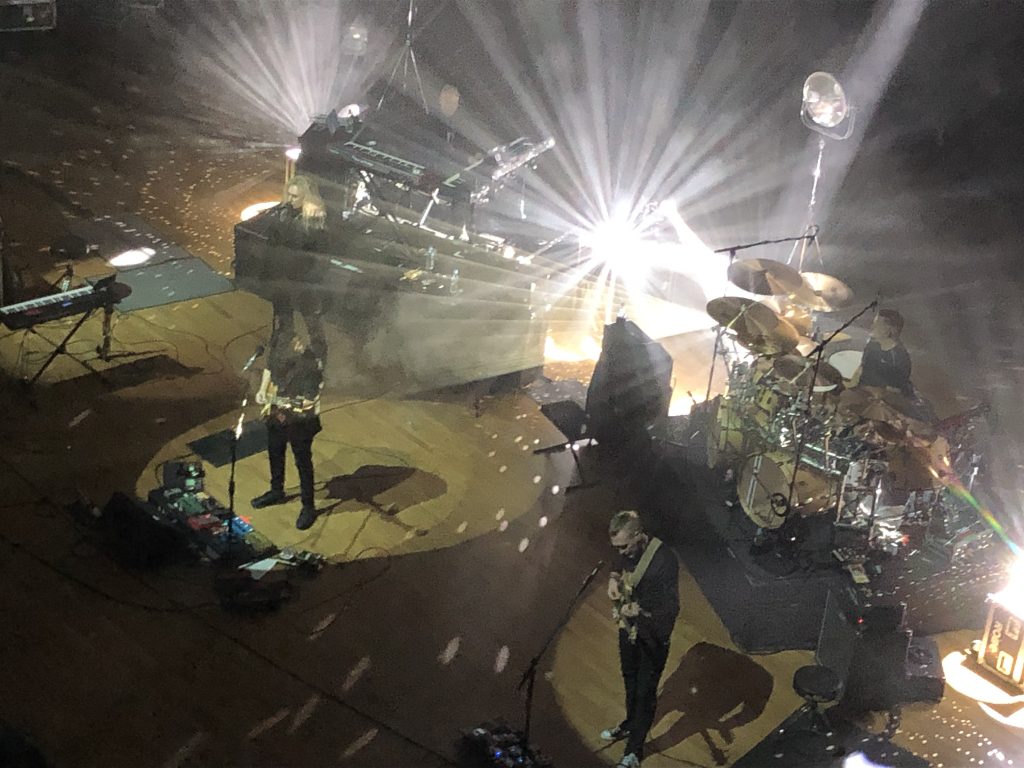 For its vocal solo opening Sylvan wears a mad hatter's hat and red long coat and dons them again near the end for 'Aisle Of Plenty'. Decked in black in between and his theatrics now an accepted part of the show, we will also see him interacting with Townsend in set movements, and the wind player will himself again move to play off Reingold. These moments aren't overplayed but they add visual attraction to the overall event.
The audience here are now in football crowd mode. I'm not saying that if you don't know every word and accented phrase that goes along with Selling England By The Pound you're in trouble or that by the time of 'The Battle Of Epping Forest' you're going to suffer the consequences of "Liquid Len, with his smashed bottle men" but there's an awful lot of passionate out-of-tune folk hereabout tonight.
That this album so of its time is now echoed more alarmingly in our present cannot be denied. You almost expect the lyrics to the aforementioned 'Aisle Of Plenty' to be changed to reflect the closure of high street stores.  But for now we are 'Dancing With The Moonlit Knight', familiar melodies are extended before the song and dance hit single that 'I Know What I Like In Your Wardrobe' tells us "It's one o'clock" and yet while the decades slip away musically there's a modern fusion vibe at work during an instrumental section.
Saxophone wailing in free form before guitar takes over, the instruments then begin trading licks, until Hackett makes out like he's playing surf guitar over a progressive beat, double-hand tapping before diving into melodious but heavy sustained notes as a jazzy blues beat plays underneath. With the final verse the crowd are back in, singing and clapping along.
'Firth Of Fifth' is tame by comparison, one for more passive aural appreciation as we take in its more subtle intricacies. 'More Fool Me' the weak link, as such, to a nigh-perfect album follows nicely; initially featuring only 12 string and a fine rendition on vocals from Sylvan.
Least we become melancholy 'The Battle Of Epping Forest' arrives next with vigour and bounce, Sylvan wrapping his throat round the multi-punning syllables with clarity and character. By the time the band has finished with this one I take a deep breath, exhausted. The piano intro to 'After The Ordeal' acts as relief, with 'The Cinema Show' tucked in between it and 'Aisle Of Plenty' next the arrangements flow easily from one to the other, solos extended playfully within.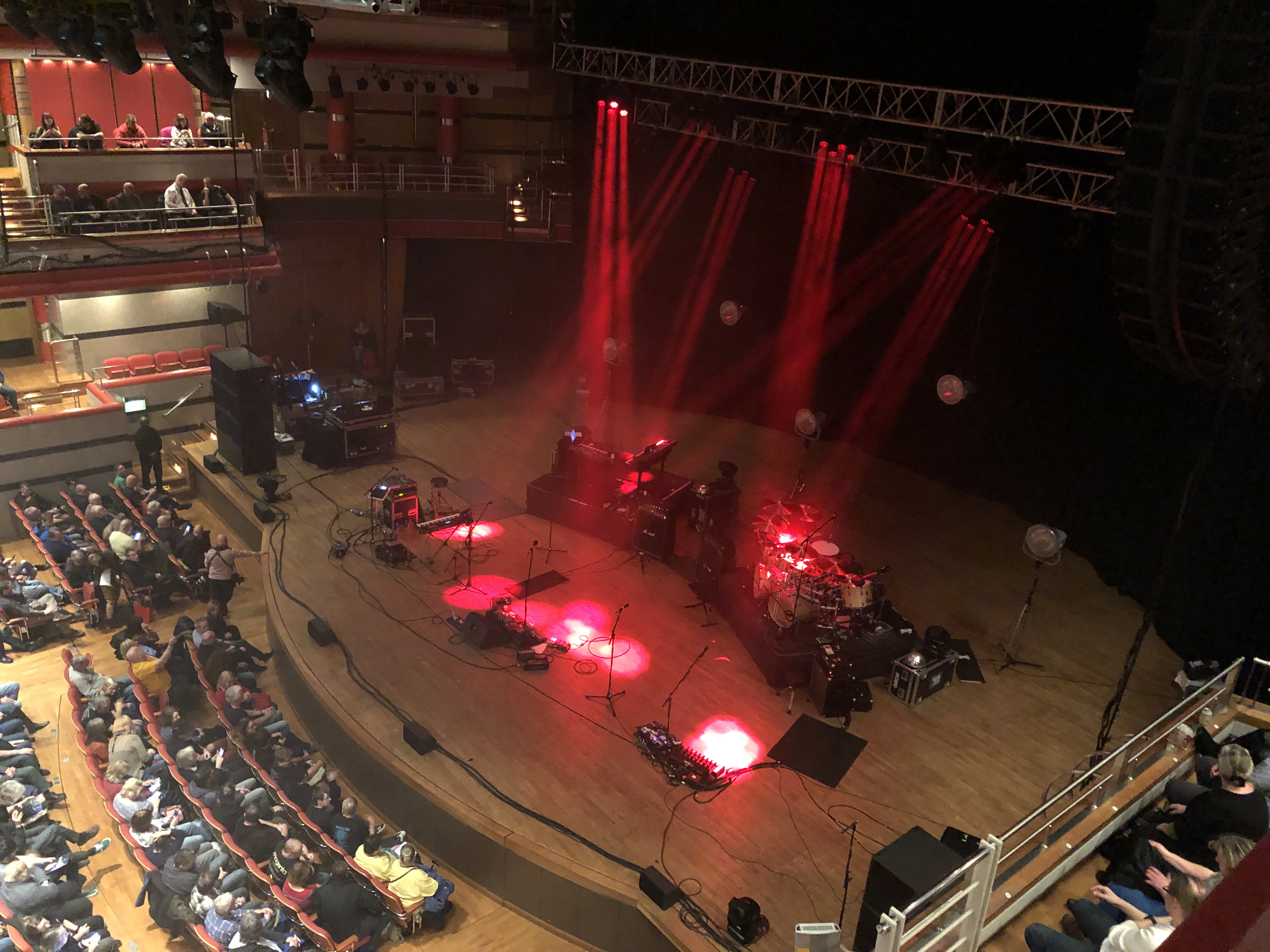 A song rehearsed at the time but not committed to vinyl, 'Déjà Vu' is next. It's not unlike something Traffic might have played back in the day, save for the three-part harmonies. Interesting enough, possibly better than the studio version of 'More Fool Me' but when Hackett strikes up the riff to 'Dance On A Volcano' the place erupts. The rhythm section belt-out accentuations, Hackett's guitar rising above them with the song's higgity-jiggity metal jazz riff shuffling in melodic diversion come the verses; on it goes until collectively they reach a cathartic climax.
It's now past the allotted finishing time on posters outside the hall, after taking in the applause the band eventually leave and despite the continued clapping we expect the house lights to come on any minute. Instead they return to encore with seismic musical amalgamation that is 'Myopia/Lose Endos/Slogans/Lose Endos (Reprise)'. It is powerful; still exciting after all these years and I still nearly shed a tear at the singular concluding line: "There's an angel standing in the sun free to get back home" is sung, transported as I am to a schoolboy round at my mate Gary's house listening to it for the first time.
And that is that, John Hackett rejoins them, they take a collective bow and off they go.
Quite excellent in so many ways.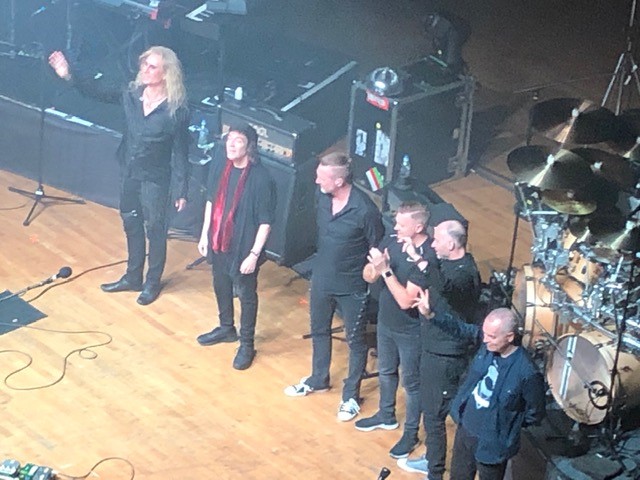 This isn't simply nostalgia handled well. This is a consummately highly talented group of musicians, possibly the best working band currently playing anywhere in the world. Seriously.
While finely honed they appear able to shift moods and fly off creatively within established structures. More so, Steve Hackett – like Eric Clapton but in a different musical environment – has become a band leader; the undoubted star-turn but able to direct and give each of his musicians their wings. I can only salute them.
With thanks to Marc Osborne for use of (c) photographs.