Exorcism will release their new EP, World In Sin on June 1, 2015, via Dream Records on CD and digital formats. The limited edition EP of 666 copies will be made exclusively available through the band's website and can be pre-ordered.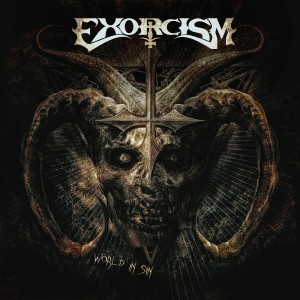 Masterminded by vocalist/multi-instrumentalist Csaba  Zvekan who wrote, produced, mixed and mastered the EP wiith the help of Dominus at Total Master Sound in Spain, it features cover artwork by Gragoth and features Joe Stump and Biggie P. Phanrath on lead guitars, and Garry King on drums, among others.
With last year's debut album, I Am God, nominated for best record in several music polls, Exorcism continue to add a modern groove to bring their Black Sabbath and Dio influences over the five tracks that are:  'World in Sin', 'Black Day in Paradise', 'Virtual Freedom', 'Sahara' and 'Black Star' on the World In Sin EP.