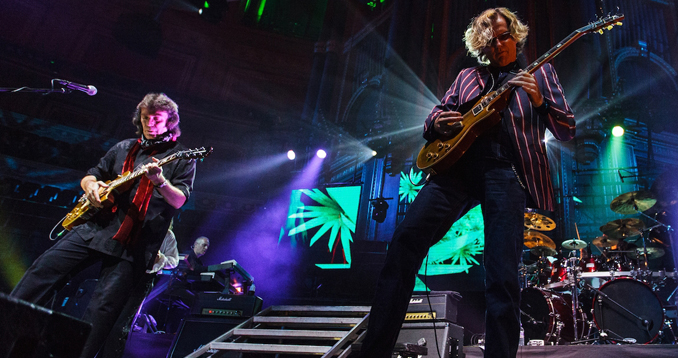 Swedish guitarist Roine Stolt, leading light of Norway's The Flower Kings and member of modern day prog rock super group Transatlantic is to join Steve Hackett for his forthcoming tour to promote his new studio album, Wolflight.
Stolt will be taking Nick Beggs role in the band, plus occasional extra duties, as the legendary ex-Genesis guitarist revealed: "I'm really pleased that Roine Stolt will be joining the band for the autumn shows on bass, twelve string and for some songs doubling on electric guitar with me. Roine is a truly impressive and versatile player and I particularly like his work with other bands and artists. I have enjoyed playing with him live on more than one occasion and I'm thrilled he's going to join the team. It's marvellous to have both Swedish talents Roine Stolt and Nad Sylvan as part of the band for these Hackett solo/Genesis Revisited shows."
Hackett, who releases new album Wolflight on 30th March, will bring his Acolyte To Wolflight with Genesis Revisited Tour to the UK in October 2015 with 19 shows. Each performance will feature two sets, one of solo material and one of Genesis Revisited. The first will cover a vast part of Steve's discography, with a selection of solo material from early albums including Voyage of the Acolyte and Please Don't Touch right up to Wolflight; the second set will see Nad Sylvan take care of the vocals on the Genesis material.
The complete line-up for the tour will include Roger King on keyboards, Gary O'Toole on drums, Rob Townsend on sax, Roine Stolt on bass and 12 string guitar, Nad Sylvan on vocals and Steve Hackett on guitar and vocals. Vocalist/guitarist Amanda Lehmann will join some of the shows as special guest.
For Wolflight music previews at RAMZine click here.
For more information on the Acolyte To Wolflight with Genesis Revisited Tour at RAMZine click here.