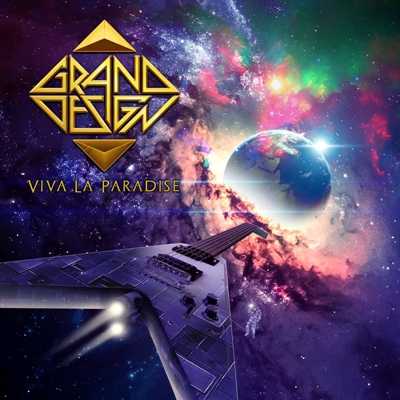 Swedish melodic rockers Grand Design have released their fourth album, Viva La Paradise.
The band, featuring Pelle Saether (Lead vocals), Janne Stark and Dennis Vestman (Guitars), Stefan Westerlund (Bass) and Joakim Jonsson (Drums), began working on the album back in June 2017.
Whereas their first two records were written solely Saether other members became involved with their third album, Thrill of the Night, and now for Viva La Paradise Stark has contributed to four songs ('Too Late To Fall In Love', 'Viva La Paradise', 'It's Only Straight From The Heart' and 'Rawk 'N Roll Hysteria'), while Vestman put his mark on 'Aim For The Heart' and 'U Can't Fool Love'.
As with previous albums, Viva La Paradise was recorded at Studio Underground in Västerås, Sweden. Saether recorded the basic tracks on his own, programming drums and laying down some guide bass and guitar parts, while making final arrangements.
The guitarists then came in leaving 90% of the record finished, even as new ideas also came up and songs were slightly altered. This included the idea to record a cover of Kansas' 'Fight Fire with Fire' as a bonus track for Japan that Saether and Stark rearranged.
Without a permanent drummer, they called in Coldspell's Perra Johansson, bass parts then recorded Westerlund and finally Saether's vocals.
Viva La Paradise was also mixed by Saether, whose intent was to give the guitars a slightly heavier edge (Not least as there were intentionally no ballads on the album)  as inspired by TNT's Intuition album, whereas Mutt Lange was the inspiration for the overall production with big choruses and distinctive melodies to the forefront.
"We always want songs with a simple rhythmic chant like 'Rawk 'n Roll Hysteria' (of course the Def Leppard pun was very intended) or 'Face It'" Stark reflected. "But also more melodic choruses like 'I Would Be The Wind' or 'Love Shouldn't Hurt'. Lyrically, the songs may seem shallow when reading the titles, but many of them deal with a break-up Pelle was going through, and finding new love on the other side.
Viva La Paradise by Grand Design is available now through GMR Music.