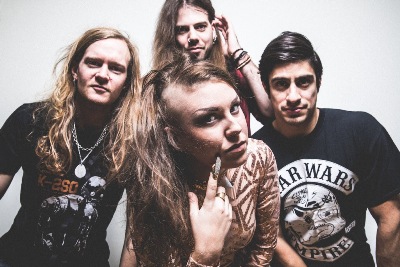 The big bang, space travel, black holes, singularity, aliens, stars colliding and the inevitable end of the universe…  This is what you can expect from Therion lead singer Linnea Vikström's new solo project, Quantum Field Theory (QFT).
The Swedish symphonic metal siren already has a worldwide fanbase. But her solo debut is said to reveal a completely new side to Linnéa Vikström as she spans time from modern day science to the eternal, asking philosophical questions regarding the beginning, the end and life beyond our own planet.
Titled Live In Space the forthcoming album is said to be a dynamic and musically diversified thematic work featuring ten tracks bound together by Vikström's vocal range and vision. Furthermore, she pre-empts the album's release with new single 'Aliens'.
"'Aliens' is one of the songs of the album that stands out the most, both in terms of style and theme," explained Vikstrom. "This song is sci-fi fantasy, me and the band setting out on an interstellar journey. The pre-chorus is based on an old AOR song I wrote a few years ago and drummer Georg Härnsten Egg made the riff come alive. It was a real team effort and we are all really proud to finally present it to you!"
'Aliens' is out now on Despotz Records.