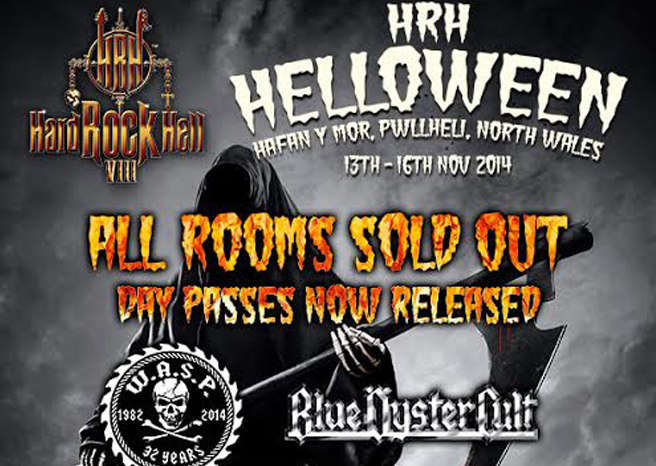 Hard Rock Hell – The festival that comes just when you need a festival fix, in November! HRH is know for displaying some of the best Hard Rock bands, you feel a sense of being apart of music history. The talent is always high, and your never too far away from a guitar solo! That's why we love Hard Rock Hell. We love HRH even more now as they have just announced 10 more awesome acts!
Swedish band Truckfighters have been added to the bill, often being described as Classic Dessert Rock, they fit right in at HRH! Bigelf will be joining them on the bill, formed back in Los Angeles in 1991 these guys have been around the block – they got to tour with the mighty Dream Theatre back in 2009, so they are most certainly worthy of HRH. If you like Guns N' Roses / Foo Fighters / Led Zeppelin then I can guarantee you will like Massive! Check out their video for 2012 single 'One By One' below. Chemia from Poland, only started touring in 2010, but have managed to quickly clock up the amount of awesome rock bands they have played with. Having played with Deep Purple, Guns'n'Roses, Red Hot Chilli Peppers, and Mastodon. Another addition to the already amazing HRH line-up is The Brew, who released new single 'Repeat' early this year (check out the video at the bottom of this page). The Brew are influenced by Led Zeppelin, Jimi Hendrix, Wolfmother – so you can guess what style of music they are going to be.
Also added to the HRH line-up: The Black Marbles, Thundermother, Piston, More, Buffalo Summer.
Video: Massive – One By One 
They join already announced acts WASP, Blue Oyster Cult, Michael Schenker & Y&T for what promises to be one of the best line-ups to date.
The line-up so far:-
Blue Oyster Cult
WASP
Krokus
Michael Schenker (Temple of Rock)
Y&T
Big Elf
Truckfighters
Vardis
Diamond Head
Bonafide
Electric Mary
Grifter
Thundermother
The Brew
Massive
Buffalo Summer
Heavy Metal Kids
More
Chemia
Carousel Vertigo
The Black Marbles
Piston
For more details and tickets go to www.hardrockhell.com or call 0203 287 6684.
Video: The Brew – Repeat