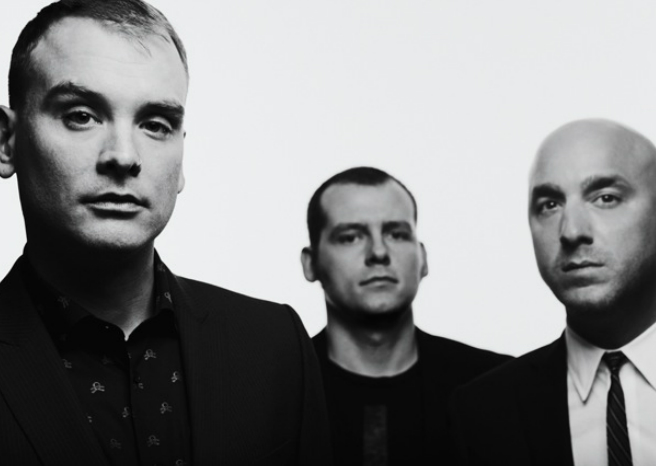 Alkaline Trio have been knocking around a while now – their debut album 'Goddamnit' was released in 1998, and their most recent 'My Shame Is True' just last year. The crowd on this Saturday night at The Forum reflects their ranging appeal and long-term growing fanbase, with a mix of older and younger fans packing out the sold-out standing section and clamouring on the balcony.
Main support came from New York outfit Bayside, whose punk rock melodies seemed a great fit for the Alkaline Trio crowd. Playing a set peppered with both older hits and newer material, Anthony Raneri's emotive vocals shone, ringing out across the room and taking full advantage of the venue's great sound quality. Meanwhile, lead guitarist Jack O'Shea provided some rocking solos and bassist Nick Ghanbarian took care of the crowd interaction. Closing with possibly their best known track, 'Devotion and Desire' Bayside proved a perfect choice to warm the crowd up for the night's headliners.
In the past, Alkaline Trio have had a reputation for being quite hit and miss in their live performances – but when they're on form, they're quite something – as tonight definitely proved. Throughout their career, they've moved from a raw, punk-influenced sound to a more polished, defined style – but still with the early influences that they're most loved for. The night's setlist brought a varied mix of old and new, including live favourites 'This Could Be Love' and 'Time To Waste'. A bit of a treat for the fans came in the form of 'Stupid Kid' – a track rarely played live, which went down an absolute storm. Even lesser-known tracks, such as 'Young Lovers' (from 'My Shame Is True'), were received with a warm reception, if not with quite as much enthusiasm as their earlier material.
For a band that share vocalists, Dan Andriano's vocals took a bit of a backseat, with more songs driven by co-vocalist Matt Skiba. On previous occasions, Matt's vocals haven't always proved up to standard, but tonight was a pleasing surprise, as he rattled through the songs with great delivery, balancing keeping the vocals in check with the rough, raw delivery known for 'his' songs.
One of the most noticeable things by far, however, was just how much the band seemed to be enjoying their performance – one that really connected with the room full of fans, who held on to every song as if they were the ones performing them. Despite the often maudlin threads running through their songwriting, the show still managed to have a positive and uplifting feel to it.
Two classic tracks drew the night to a close during the encore: 'Private Eye' and 'Radio', the latter in particular bringing one of the loudest and most enthusiastic singalongs of the night. Alkaline Trio are a much-loved band, and have an incredibly devoted fanbase, who will undoubtedly be following the Trio for many years to come. And going by tonight's performance, they have some very good times to look forward to.
Alkaline Trio 'Stupid Kid'