Hit The Deck Festival takes place yearly, playing a day each in Bristol and Nottingham. RAMzine were at the Nottingham leg of the festival, and here are our selected highlights…
Hit The Deck always proves to have an interesting and diverse line-up, with a mixture of big name bands and up-and-comers, 2014's festival proved no different. First off the bat, it's definitely worth mentioning – Nottingham is a perfect place for the festival, with all the venues being minutes apart from each other, and a great option for those who want to cram in as many bands as possible.
For anyone still rubbing sleep from their eyes from partying the night before, Death Remains were a loud, proud wake-up call. Providing perfectly executed metal-core riffs. Frontman Barry O'Connor proved an absolute natural on stage, providing unrelenting guttural vocals peppered with the occasional interventions of cleaner vocals – both of which were strong and executed with precision.
Over in Rock City, Dinosaur Pile-Up offered up their grungy rock sound to a relatively static crowd. Although musically competent, a few of the tracks did feel samey – but there were a few breakout solos that demonstrated their capabilities to deliver technically competent and powerful solos.
For anyone after a hefty dose of nostalgia, Hawthorne Heights brought the 00s emo to the forefront, playing their album 'The Silence In Black and White' in full to celebrate its 10th anniversary. Despite the fact that a large portion of the attendees hadn't hit secondary school when the album was first released, the crowd lapped up the set, particularly for the opening tracks. In a wise move, the band saved their best-known song, 'Ohio Is For Lovers', until the end of the set – providing a hearty sing-along to end a whirlwind trip through the wilderness of teenage angst.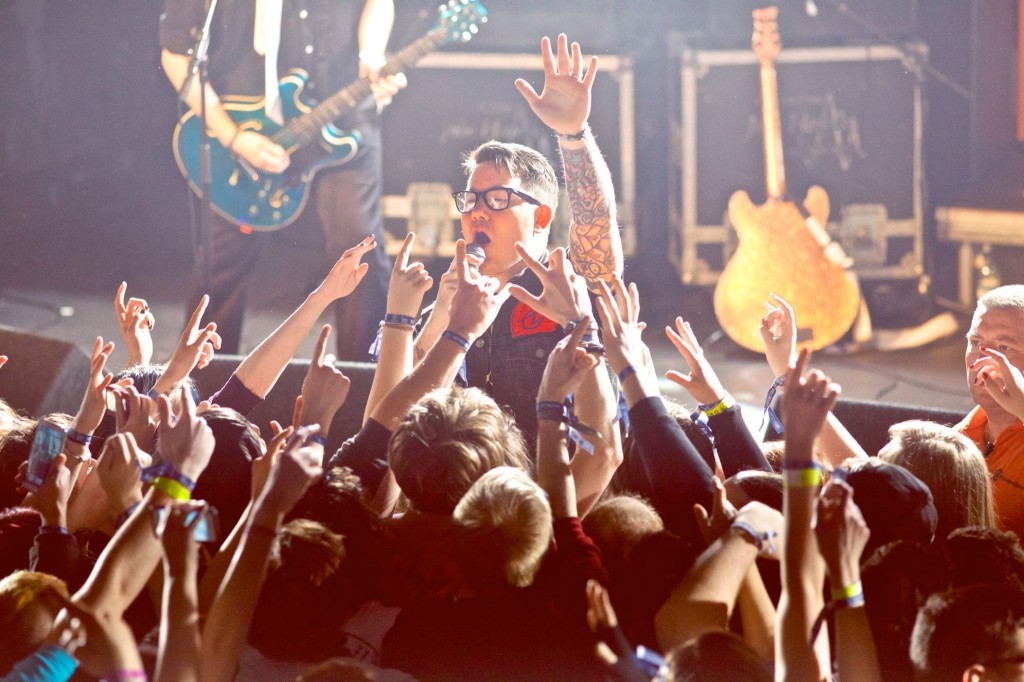 Following on from Bowling For Soup's front-man Jaret Reddick's People On Vacation, Patent Pending brought on a pure energetic pop-punk frenzy. Their set perfectly exemplified how crowd interaction can add to a show, with frontman Joe getting the crowd jumping for coins to 'Hey Mario' and waving their 'pirate hooks' (aka bent index fingers) in the air for the folk punk inspired 'The Whiskey, The Liar, The Thief'. If the afternoon party hadn't started early enough, a cover of Andrew W.K's 'Party Hard' had the entire Forum venue dancing and rocking out. But proving they're more than just the party-hearty pirates of the pop-punk scene, Joe's speech before 'One Less Heart To Break' about losing a friend to suicide felt honest, sincere and heartfelt. A band that really promote the inclusiveness of the music scene, Patent Pending are wonderfully fun, and despite playing just 8 songs, the set had the cohesiveness and tempo of a full-length set.
Neck Deep have absolutely exploded over the past year and set themselves at the forefront of the UK pop-punk scene, and the packed Rescue Rooms venue reflected just how much of a crowd they can draw in. The vocals were quite raw and rough in places – but with the kind of songs Neck Deep create, it actually works to their advantage. It's rare for a band that usually pack such a punch to slow it down, but Neck Deep aren't afraid to show their softer side with the appearance of acoustic track 'A Part Of Me'. The rest of the set showcased mainly tracks from their debut full-length release. Wishful thinking and passion-fueled performances like this one are a testament to the band's skyrocketing popularity.
With their impending split, it was understandable that Kids In Glass Houses would want to put on a great show – and they definitely succeeded. Playing all the hits, the band seemed on top form – which makes said split even more of a shame. Catchy hooks and sing-alongs were order of the day, particularly for big hitters 'Sunshine' and 'Youngblood (Let It Out)'. A perfect summertime band, the set saw plenty of dancing and movement, with frontman Aled Phillips truly owning the stage and having the audience eating out of his hand.
Headlining Rock City and closing the two days of HTD as part of their hotly anticipated UK tour, Brand New started their set in an understated yet incredibly atmospheric fashion, with 'Welcome To Bangkok' leading into the spine-chilling 'You Won't Know'. The first half of the set lined up mostly tracks from early albums Your Favourite Weapon and the ever-loved Deja Entendu. Audience members sung lyrics back at the band with such passion that it was almost hard to hear vocalist Jesse Lacey at points, particularly during 'The Quiet Things That No One Ever Knows' and 'Sic Transit Gloria…Glory Fades'. Lacey kept a low-key attitude towards crowd interaction, but it was something that wasn't needed – the power of Brand New's songs and his emotionally-wrought delivery was enough to make it a captivating performance.
After the rush of unabashed excitement that came with the angst-ridden 'Seventy Times Seven', the non-die-hard crowd seemed to settle slightly as the band played a run of songs from their more recent material, which came across as slightly muted after the enthusiasm that gathered around earlier tracks. However, an unexpected ending came in the form of the beautiful 'Soco Amaretto Lime'. A song harking back to the nostalgia of youth, friendship and young love perfectly played and sung, it was a perfect choice to end the festival on a feeling of understated contentedness.