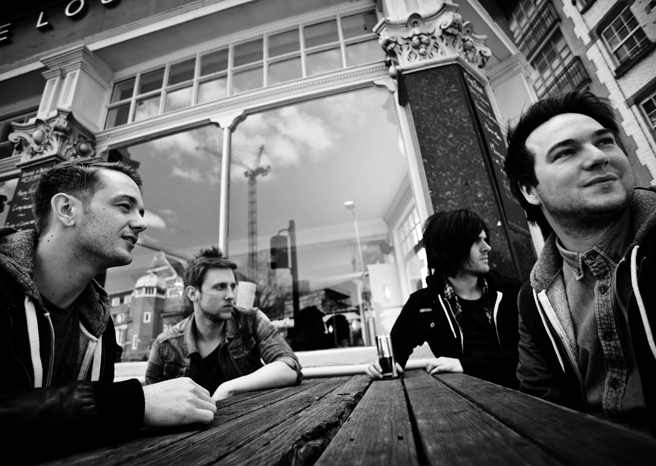 We caught up with Lacey after their set at Hit The Deck. The alt-pop-rock dudes from Nottingham tell us about their time at HTD, and the meaning behind some of their tracks 'Hometown' and 'Reach Out'. We look forward to the forthcoming album towards the end of this year!
RAMzine: How was Hit The Deck?
"Incredible! We were humbled by how many people turned out to see us, it was fantastic. We really enjoyed the set, we didn't want it to end and everyone seemed to be enjoying themselves.  The whole day was just great, can't wait for next year!"
RAMzine: Have you played HTD before? How does it compare to other festivals?
"Yeah we played last year (2013). The whole vibe of an indoor festival is different of course but bouncing form venue to venue is great, makes you feel like you've been to so many shows in a short space of time. Plus everyone stays dry, this is England after all."
RAMzine: Did you attend the after party? How did your HTD experience end?
"Unfortunately not, our bus call was quite early as the first day of tour was the following day, we had to head up to Sheffield that night. I'm sure if we had have gone to the after party, would have been drunk making fools of ourselves. Our night ended watching an incredible set form Brand New, a band we've all grown up listening to so that was an amazing way to end the festival for us."
RAMzine: You are on a UK tour for the rest of the month. How is it going so far? Are Patent Pending and People on Vacation treating you well?
"We can't even begin to explain how fantastic this tour's been so far, each city we've played has been so welcoming and enthusiastic, really getting behind us and what we're doing.  I can say hand on heart, People on Vacation and Patent Pending are some of the nicest guys we've ever had the pleasure of playing with. Definitely treating us well despite having our English accents mocked constantly, I don't think they understand our slang sometimes but we'll let them off."
RAMzine: Your most recent video 'Hometown' is really great quality. Tell us about the video and the story behind the song?
"We shot the video at the Albert Hall in Nottingham and other scenes at various locations throughout the city.  The song's just about making something of yourself out of your hometown, Nottingham has definitely shaped us as people and as a band, now it's time to see what we can do outside its walls! We didn't want to openly show specific Nottingham landmarks throughout the video, we want people to be able relate the song to their own hometown experiences."
RAMzine: You have just released 'Reach Out' which came out last week!  Explain the track to us, what's it all about?
"Reach Out is a fast past, frantic rock song, it's so much fun to play live and we're really pleased with how it's come out.  It's loosely based on the idea of trying to change yourself for the better but going too far and making things worse.  In short, you're ok how you are so relax; don't try so hard as the song says!"
RAMzine: What drives you to make pop-rock?
"I guess we just want to write songs that appeal across the board, songs that people can relate to and sing along and hopefully along the way, make people feel good and smile!"
RAMzine: You are a band with a lot of emotion in your music, would you agree? Where does that come from?
"I guess that stems from being passionate about what we're doing.  We've had experiences in our lives that we want people to hear but at the same time the need to be entertained. Combine the two and hopefully a bit of passion will come across in what we're playing."
RAMzine: Tell us about your next album!?
"We've no official release date yet or name for that matter! We're getting there, we've for a few tracks recorded already, a few more written which we'll be laying down soon, I can guarantee we'll be tweaking bits and pieces up to the last moment possible, it's just how we work, we're not happy until we're convinced everything is perfect."
RAMzine: What's next for Lacey? What more will 2014 bring?
"After we finish the tour we'll be back in the studio to start finishing the album, hopefully we'll get back out on the road by the end of the year, and then we'll be releasing the album. Hopefully 2014 will bring us everything!"
Lacey – Hometown (Official Video) 2014