British metallers Hell have revealed the artwork and track listing for their upcoming second studio album, Curse and Chapter.
Guitarist and keys player Kev Bower commented:
"The artwork for 'Curse And Chapter' is once again the result of our collaboration with artist Dan Goldsworthy and photographer Nigel Crane, who we first worked with on the 'Human Remains' album cover in 2011. The digipak for this is one of the most complex pieces of CD/DVD packaging ever attempted by Nuclear Blast, and the concept for this was dreamed up by myself and Andy Sneap whilst staggering back from the local pub late one night, after a 'heavy creativity session'. It was inspired by the rise in spiritualism in England during the 19th century, during which time séances and attempts to communicate with the dead became commonplace – along with the establishment of numerous secret cults and aristocratic organizations who would meet in secret, attempting to raise spirits and reach 'the other side'."
Check out the artwork and track listing below!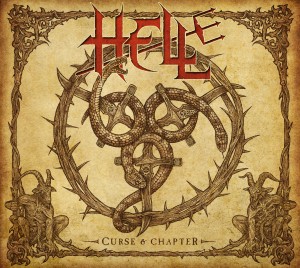 01. Gehennae Incendiis
02. The Age Of Nefarious
03. The Disposer Supreme
04. Darkhangel
05. Harbinger Of Death
06. End Ov Days
07. Deathsquad
08. Something Wicked This Way Comes
09. Faith Will Fall
10. Land Of The Living Dead
11. Deliver Us From Evil
12. A Vespertine Legacy
Curse and Chapter is due for release November 25th via Nuclear Blast Records.