Hit The Deck organisers have announced the first batch of bands that will be appearing at this years festival.
The acts will join headliners Brand New who were announced just before Christmas last year. This new announcement see's the likes of Saves The Day and Brutality Will Prevail added to the line up along side Memphis May Fire, The Summer Set, Ghouls, Gnarwolves, Hands Like Houses, More Than Life, Nai Harvest, Palm Reader, Rat Attack, Verses, William Beckett and The Word Alive.
Check out the latest line up poster below!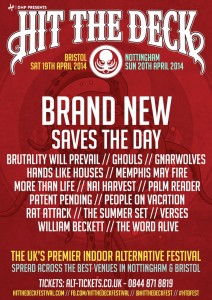 Hit The Deck 2014 is due to take place on April 19th and 20th at various venues in Bristol and Nottingham respectively