Fans of Ian Anderson And The Jethro Tull Band are going to have to make a new year's resolution about saving that little bit more in 2020, as prog rock icons have some very special events coming up.
Spring will see more intimate live shows with Ian Anderson on Jethro Tull, the summer will find themKeeping The Blues Alive at Sea on the Mediterranean, then in Autumn they're set to delight fans with The Prog Years Tour 2020.
Through April to May, Ian Anderson will be visiting a number of England's slightly smaller venues for Ian Anderson on Jethro Tull. Accompanied by guitarist Joe Parrish, this will be an intimate evening of performance and chat where Anderson will cover his career and the history of Jethro Tull and invite the audience to pose interesting and challenging questions.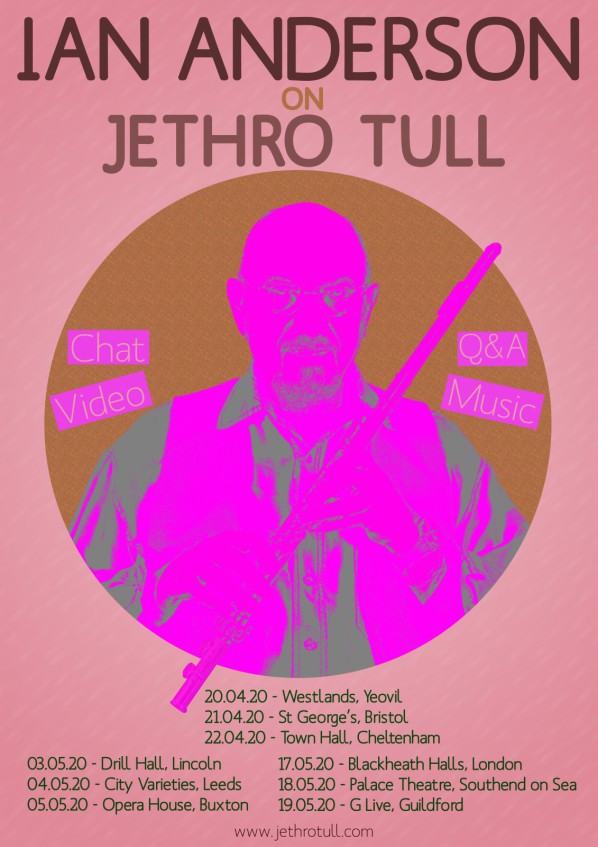 With archive video footage also being screened, the format will follow that of the successful Rubbing Elbows With… American tours of 2002 – 2003.
"I'm looking forward to visiting some lesser played Tull songs and receiving some tricky questions from the audience!" remarked Anderson
For the ardent Jethro Tull fan, this is an event not to be missed.
The Prog Years Tour 2020 tour, 11 dates across the UK in September and October, will draw heavily on material from the band's more progressive rock style albums, notably classic albums such as Stand Up, Benefit, Aqualung, Thick As A Brick, Passion Play and even a touch of Thick As A Brick 2 from 2012.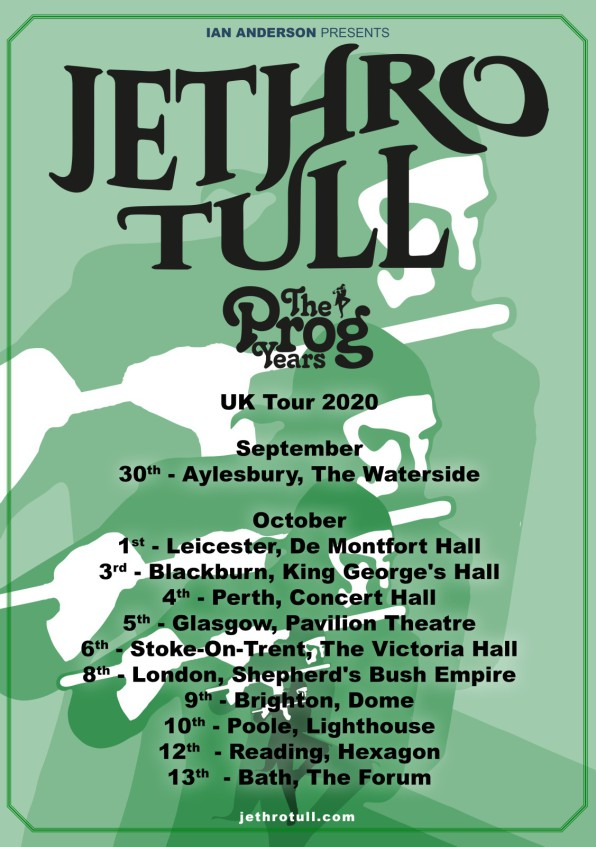 From the outset, Anderson, as the band's frontman created a distinctive persona as a tousled flute-playing minstrel, balanced on one leg and playing music with an historical slant.
Talking about this tour he said:
"Dusting off many older progressive songs amongst my earliest attempts to experiment outside the blues repertoire we began with has proved hugely enjoyable. Along the way, over the last 50 years, there have been a good few pieces that still strongly resonate with me today on either a musical or lyrical level. Hopefully both.
"Some are really tricky to play; some might sound that way but fall under the fingers quite naturally although the overall arrangements require feats of memory! Test my marbles; come to the party!"
Ian Anderson will be accompanied by Tull Band musicians David Goodier (bass), John O'Hara (keyboards), guitarist Joe Parrish and Scott Hammond on drums. The show will be enhanced by full scale video projection.
Tickets are available by clicking here or from the venues direct.
For more about Ian Anderson and the Jethro Tull band's appearances on the Keeping The Blues Alive at Sea Mediterranean II cruise visit RAMzine here.