Describing themselves as "a band that blows hot and cold", Icefire began wreaking havoc live across the UK but a few short months ago, having only got together as a band earlier in the year. A female fronted rock band featuring former members of Agincourt, Scarab and Nightblade, they were no strangers to the recording studio and already have an album, The Nature of Evil, recorded and due out September, pre-empted by their debut single, 'Drink Me In'.
Featuring vocals from Deborah Woodward with Dave Paz on brittle-edged lead guitar and a rhythm section kept together by bass player Billy Fitz and drummer Steve Riley they deliver a classic metal rock sound fronted by breathy Gothic-inspired vocal narrations, one part Wicked Witch of the West, the other a shoe-tapping Dorothy.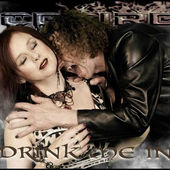 'Drink Me In' is one for the midnight matinee crowd, but by chance, as Woodward explained:  "The lyrics were written after staying at Whitby, during what happened to be Dracula Weekend. I bought and read most of the book. The place is so atmospheric I wanted to write a song about it."
Slurry psychedelia-veering vocals muse over sparingly played resonating piano notes in opening coda before a heavy rumbling battle march has MSG influenced guitar licks dodging in an out, vocals working with them playing with the ever-present sexual motif of vampirism. The guitar riff reinforces then develops the song's progression, with a stirring solo thrown in for good measure. At just over six minutes long, metal merchants get value for their money here.
'Drink Me In' is available now as a digital download on both iTunes and Amazon with The Nature of Evil imminent.