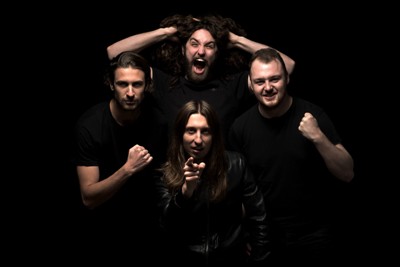 In a familiar rock story but with a twist, two Aussie brothers went to the other side of the world and started a rock 'n' roll band… By the name of the Jailbirds.
Originally from Sydney, singer/guitarist Axel and drummer Jay McDonald, landed in Dublin, Ireland a few years back and hooked up with a couple of locals, guitarist Ed Orr and bass player Jamie Trible, to form Jailbirds.
The Jailbirds influences abound with the likes of Oz rock legends, AC/DC, Rose Tattoo and Airbourne, alongside Thin Lizzy's groove, Iron Maiden's histrionics, and a Foo Fighters sound to deliver something sorely lacking in today's overly PC music climate. Pure, unadulterated rock 'n' roll, and about having a good time all the time.
The band's first EP, Break The Silence, released in January 2017 received airplay in Australia, Germany and the UK and since then they've been playing live, supporting bands such as The Answer, Tyler Bryant & The Shakedown, Y&T and Anvil as well as headlining tours of their own around Ireland. Now the band has landed a deal with Golden Robot Records that will see them release an as yet untitled album later this year, alongside touring European.
'Jailbirds are very proud to have signed their first deal with Golden Robot Records," said Axel McDonald. "This will be a major step towards properly establishing the band and with their help we can't wait to take our music out of Ireland and bring it to the rest of the world. We could not be prouder that Golden Robot, a label dedicated to rock n roll music will be there with us along the way."
Golden Robot Entertainment Group Founder and President Mark Alexander-Erber said: 'Having known the brothers for some time and watching them develop through a few bands I knew it was time to sign the Jailbirds before the rest of the world found out how exciting they were and with some involvement from Golden Robot and our worldwide team the sky is the limit, I think they can take the mantle from AC/DC and Airbourne with their debut album, but hey no pressure now."
Prior to their album's release Jailbirds have released a brand new video for 'One Hell Of A Fight' taken from the Break The Silence EP that you can see here at Ramzine.