Singer/songwriter John Taglieri has just issued his new EP, True Believer – his first release of full-on hard rock material since his debut full length album, Leap Of Faith back in 2000.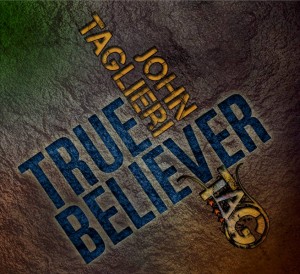 True Believer brings Taglieri full circle around to his melodic rock roots, a route he's resisted going back down since that first release at the beginning of the century. "I've always been the kind of writer who writes anything that comes to me and I love to explore new places," said Taglieri. "I never wanted to be known as a one trick pony, so to speak. I went where my musical journey wanted to take me and that had some varied styles in it. Along the way the hard rock element was always there, but this EP brings it all the way back with a vengeance!!"
Recorded in his own Dawg Pound Studios just outside Boston, Taglieri himself played every instrument aside from the keyboards on 'Above the Sunrise' (provided by Lee Turner of Darius Rucker) and the rhythm guitar parts on the title track, which his longtime friend and collaborator, John Calendrillo stepped in for. Local Massachusetts musician and good friend, Munk Duane, also lent his vocal talent to the backing vocal section of 'Way Out'.
The EP kicks off with 'Don't Ask Why' a dark, heavy number that's also released as a single. Title track 'True Believer' has been with Taglieri for over 20 years dating back to his former band Big Trouble. "The hook to the song has lived in my head all these years and I finally decided the time was right," he said. 'Way Out' is about relationships ending and 'Take This Ride' and 'Above the Sunrise' harken back to old school guitars, Hammond organs and in-your face-vocals. 'Mad Mad World' closes the EP,. "It's a message about keeping on your toes before you get swallowed up in turmoil," reflected the singer.
True Believer is out now via Leap Dog Music/Vanity Music Group and is available on all digital platforms as well as CD (available at retail outlets and online).