Multi-award winning British blues band King King have confirmed a nationwide 18 date UK tour beginning in February 2015 with special guest Laurence Jones.
The tour will feature new songs from their forthcoming new album 'Reaching For The Light' that is being released on May 5th through Manhaton Records. It follows in the wake of what has been a highly successful 2014 for the band.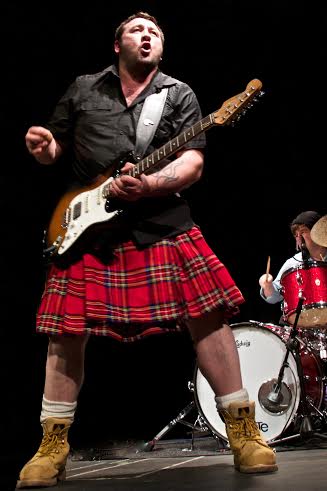 King King are now three times winners of the British Blues Awards' Best Band category, and following the release of their critically acclaimed 'Standing In the Shadows' album, they would also scoop Album of the Year and individual Male Vocal, Bass Player and Drummer awards last year.
Vocalist/guitarist Alan Nimmo had already made a name for himself co-fronting the Glasgow-born and internationally renowned blues rock outfit The Nimmo Brothers, before throwing his hand in with bassist Lindsay Coulson, drummer Wayne Procter and keyboardist Bennett Holland to form King King . They releasing their debut album, 'Take My Hand', in 2011 then practically stole the show at that year's Monaghan Blues Festival. Establishing a hard-gigging reputation while having a tendency to wear kilts, they would follow it with the aforementioned award-winning 'Standing In the Shadows' and this year's role reverse titled 'Reaching For The Light'.
Tour dates are as follows, and tickets available direct from the venues or available 24 hours online via www.thegigcartel.com
King King February/march 2015 UK Tour
LINCOLN DRILL HALL: Friday 20th February (Free School Lane, Lincoln, LN2 1E).
CHESTER LIVE ROOMS: Saturday 21st February (112-114 Magdalen Street, Norwich, NR3 1JD).
LEAMINGTON SPA ASSEMBLY: Thursday 26th February (Spencer St, Leamington Spa, Warwickshire, CV31 3NF).
NEWBURY ARLINGTON ARTS: Friday 27th February (Mary Hare School, Newbury, West Berkshire RG14 3BQ).
MILTON KEYNES STABLES: Saturday 28th February (Stockwell Lane, Wavendon, Milton Keynes, Buckinghamshire, MK17 8LU).
READING THE BOWERY DISTRICT: Sunday 1st March (110-117 Friar Street, Reading, West Berkshire, RG1 1EP).
LONDON BORDERLINE: Thursday 5th March (Orange Yard, Manette St, London, W1D 4JB).
EXETER PHOENIX: Friday 6th March (Exeter Phoenix, Bradninch Place, Gandy Street, Exeter, EX4 3LS).
BILSTON ROBIN: Saturday 7th March 2015 20-28 Mt Pleasant, Bilston, West Midlands, WV14 7LJ
CARDIFF THE GLOBE: Sunday 8th March 2015 Tickets £15 / Box Office: 08444 780 898
125 Albany Road, Cardiff, Wales, CF24 3NS
NORWICH EPIC: Thursday 12th March 2015, Tickets: £15 / Box Office: 01603 727 727, Book Online: www.thegigcartel.com, 112-114 Magdalen Street, Norwich, NR3 1JD
SHEFFIELD CITY HALL BALLROOM: Friday 13th March 2015, Tickets: £15 / Box Office: 01442 789 789, Sheffield City Hall, Barkers Pool, Sheffield, S1 2JA
MANCHESTER BAND ON THE WALL: Saturday 14th March 2015, 25 Swan St, The Northern Quarter, Manchester, M4 5JZ
LEEDS WARDROBE: Wednesday 18th March 2015, Leeds Wardrobe, St Peter's Square, Leeds, LS9 8AH
GATESHEAD SAGE: Thursday 19th March 2015, St Mary's Square, Gateshead Quays, Gateshead, NE8 2JR
STOCKTON ARC: Friday 20th March 2015, Stockton Arc, Dovecot Street, Stockton-on-Tees, TS18 1LL
GLASGOW O2 ABC: Saturday 21st March 2015: 1 Station Road, Chester, Cheshire, CH1 3DR
ABERDEEN THE LEMON TREE: Sunday 22nd March 2015, 5 West North Street, Aberdeen, AB24 5AT