Featuring a stellar line-up consisting of renowned and highly respected musicians, the ensemble that is Kingdom of Madness is a celebration of Magnum's classic-era albums and songs from 1978-1994.
The line-up is most impressive and consists of Mark Stanway (Grand Slam, Magnum, M3) on keyboards, Laurence Archer (Grand Slam, Wild Horses) on guitar, Richard Bailey (Magnum, Whitesnake) on flute/keyboards, Mo Birch (Magnum, UB40) on percussion, Micky Barker (Magnum) on drums, Neil Murray (Black Sabbath, Snakecharmer, Whitesnake) on bass, and the talented Chris Ousey (Heartland, Snakecharmer) on vocals.
With such a fantastic line-up, it goes without saying that the audience will be in for a treat when these guys hit the stages in the UK in late 2018 and throughout 2019. Five of the members have toured and/or recorded with Magnum, but Kingdom of Madness will primarily focus on the early years of the former's catalog and one can expect to hear some of the tunes that have not been performed live for decades.
Kingdom of Madness are neither a tribute act nor a rival to the current incarnation of Magnum, and as Stanway says, "I should state that we by no means consider ourselves a Magnum "tribute" – how can it be when five of the members have a shared legacy with the band? I'm delighted to be working with Richard, Micky, Laurence and Mo again and in Neil and Chris we have two musicians with their own distinct history who will obviously bring their personal musical identity to the project. In addition, with our focus being firmly on the music from the earlier period, we do not perceive ourselves as being in "competition" with the current Magnum. There is more than enough music to keep both bands busy – a fitting testament to the song-writing of Tony Clarkin".
Magnum released some superb records between 1978 and 1994 and they achieved both commercial and critical success in Europe and the UK. Their live performances were thrilling and full of excitement both musically and visually, and their tunes are as timeless as they are riveting. Make sure you catch Kingdom of Madness on the road in the UK in 2018-2019 and head on over to their website to check out the tour dates. Keep in mind that Wolverhampton on the 21s has already been sold out. See the full list of dates below.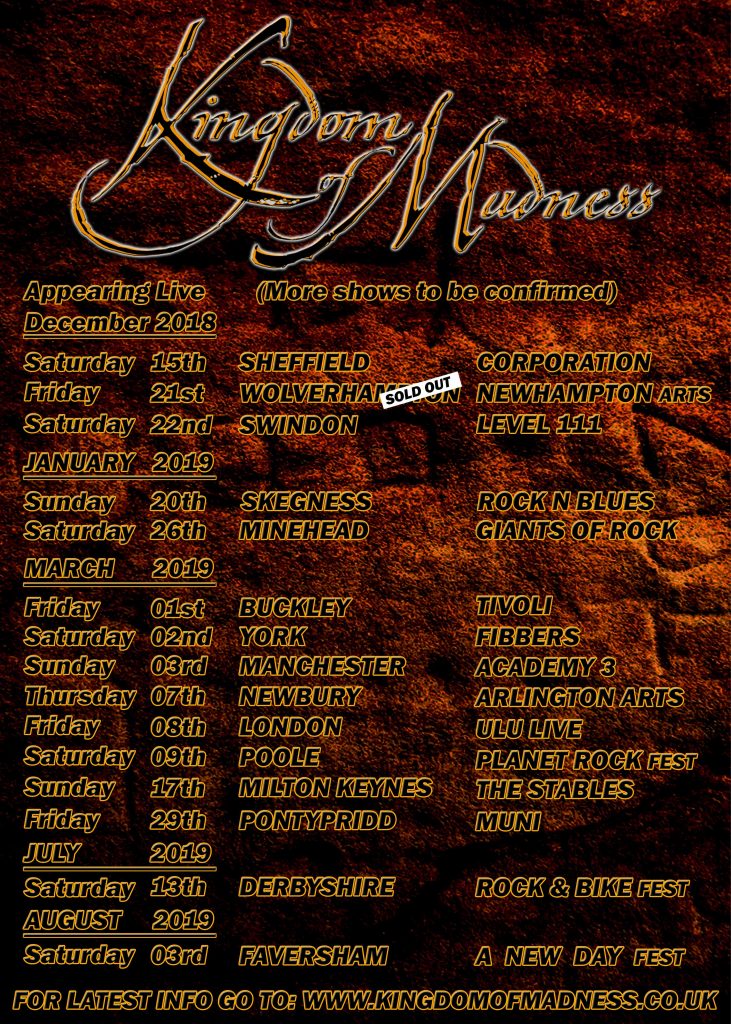 Visit their website here: https://www.kingdomofmadness.co.uk/