"Epic metal hymns, cracking rock songs, great choirs, powerful classical music, a top notch production and magic melodies" are promised on Sign of the Dragonhead by Leaves' Eyes, due out January 12th 2018 from AFM Records.
The symphonic metal band have been touring North America with Sabaton and said to have taken the energy produced during their latest live shows directly into Mastersound Studios were vocalist/producer Alexander Krull captured Leaves' Eyes' musical tales of Norse mythology and Viking sagas for  Sign of the Dragonhead.
Leaves' Eyes feature Elina Siirala and Alexander Krull on vocals, Thorsten Bauer and Pete Streit on guitars,  alongside drummer Joris Nijenhuis. They are joined on Sign Of The Dragonhead by The London Voices choirs of Lord Of The Rings and Stars Wars fame, the classical ensemble of Victor Smolski from Belarus and various folk, classical and percussion musicians.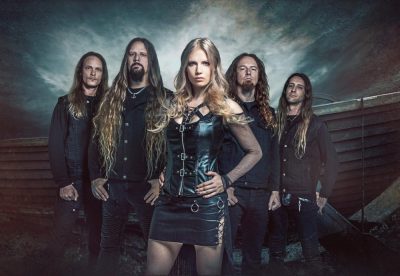 Sign Of The Dragonhead features the following tracks: 'Sign Of The Dragonhead', 'Across The Sea', 'Like A Mountain', 'Jomsborg', 'Völva', 'Riders On The Wind', 'Fairer Than The Sun', 'Shadows In The Night', 'Rulers Of Wind And Waves', 'Fires In The North' and 'Waves Of Euphoria'.
With cover artwork produced by Stefan Heilemann, Sign Of The Dragonhead can be pre-ordered by clicking here.