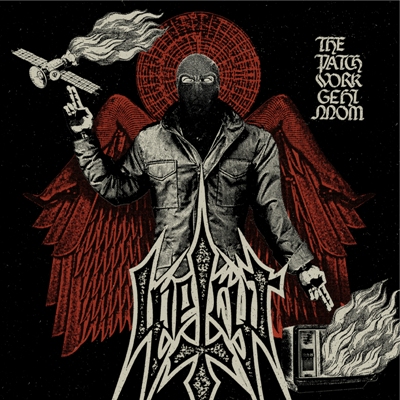 Six years since the release of No State of Grace, sonic terrorists Iperyt return with their third full-length album The Patchwork Gehinnom due on 15th December from Pagan Records.
Iperyt feature the wonderfully named People Hater on vocals, Hellhound and Black Messiah on guitars, Shocker applying samples and Vincent on bass. For those unfamiliar, their music is described as being black metal with a touch of death/grind attitude all thrown into the wall of noise called terrorcore.
The Patchwork Gehinno  will be released on CD, LP and digital formats and features the following tracks: 'Phantom Black Dogs', 'From Nowhere to Nowhere', 'What Man Creates', 'With Eyes Wide Shut', 'Devil's Violent Breed', 'These Walls (Have Seen)', 'Scars are Still Sexy', 'Primitive Darkness', 'Mindtaker', 'Worms of the Modern World' and 'Checkmate, God!' (originally by Infktd).
Recorded and produced at Czysciec Studio, production and mixing duties on The Patchwork Gehinno were handled by Nihil (Furia,  Massemord, Morowe) who also provides additional vocals on 'Scars Are Still Sexy'.