American metal kings Machine Head have revealed a very special release for this year's annual Record Store Day.
The band have announced they will be releasing a limited edition 10″ single featuring a demo of a brand new song, titled Killers & Kings. The single will be released with 4 different 'Tarot Card' design sleeves and will feature covers of Ignite's Our Darkest Days and Bleeding as B-sides. Frontman Rob Flynn explained his motive for releasing the demo:
"I remember growing up in the thrash scene and always wanting to hear the demo version of songs… You searched them out. Thankfully my buddy Jim was a big 'tape trader,' and through trading we had both Metallica demos, Exodus demos, bootlegs of songs sometimes 'years' before they came out. I knew how to play every note of Pleasure Of The Flesh by Exodus, easily 2 years before the record was out! My friends and I would debate the merits of each, but we all agreed, It was so much cooler to hear it BEFORE the album is out! So we're gonna do that for you. I can't wait for you guys to hear this stuff."
Check out the cover designs below!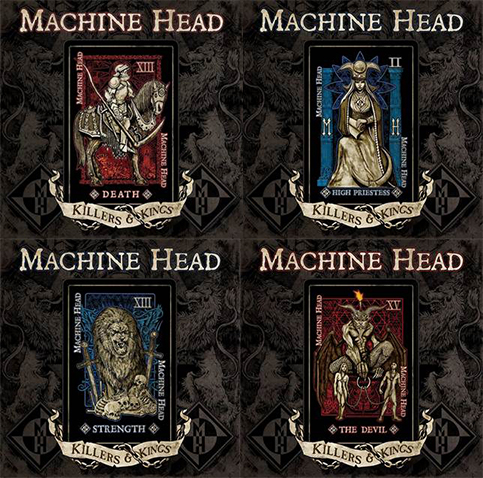 Killers & Kings will be released on April 19th. The band are currently recording a follow-up to 2011's groundbreaking Unto The Locust for release late this year via Nuclear Blast Records.