Fury Fest 2014 have revealed the final batch of bands to be added to this year's line-up.
Drug Church, Headroom, Malevolence, Desolated, Shields, Arcane Addiction, Doomed From Day One and Buckle Tongue join the line-up headed by New York punk rockers I Am The Avalanche. Check out the completed line-up posted below!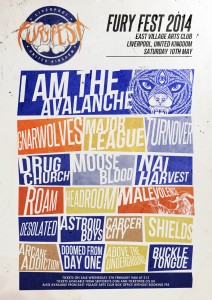 Fury Fest 2014 is due to take place on May 10th at the East Village Arts Club in Liverpool. Tickets can are availale for purchase here.