Iconic rock 'n' roll frontman, Michael Monroe, has revealed the artwork and track listing for his upcoming album, Horns and Halos.
The artwork was designed by band mate, Dregen, who also gave some comments on his inspiration for the design:
"I love logotypes that are a 'little secret; you know, the ones that are more like signs – Van Halen, Crass, HIM's Heartagram, etc. That was the starting point…"
Check out the artwork and track listing below!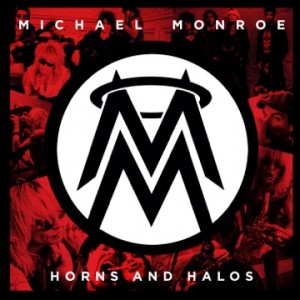 1.TNT Diet
2. Ballad Of The Lower East Side
3. Eighteen Angels
4. Saturday Night Special
5. Stained Glass Heart
6. Horns And Halos
7. Child Of The Revolution
8. Soul Surrender
9. Half The Way
10. Ritual
11. Hands Are Tied
Michael has also revealed that fans can expect a new video from the album on August 5th with song details TBC. For now, you can watch the latest video for Ballad Of The Lower East Side below!
Horns and Halos will be released August 26th via Spinefarm Records. Michael Monroe will be playing at this year's Hard Rock Hell set to take place from November 28th – December 1st with more UK shows promised for this year.