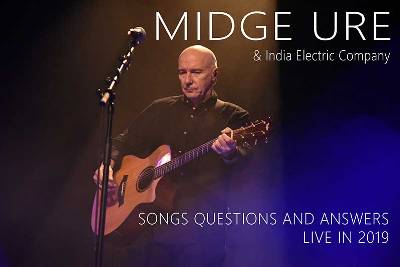 Midge Ure returns to the UK theatre circuit in early 2019 with a special concert experience – The Scottish music legend will present his Songs, Questions & Answers tour from March through to May.
From boy band one hit wonders Slik to new wave punks The Rich Kids, a tour of duty with British rock heroes Thin Lizzy onto electronica success with Utravox, Visage and as a solo artist, the man has become a renowned singer, songwriter, record producer and recipient of an OBE.
That last bit duly deserved for his work as an ambassador for Save The Children, a life changing event that began when he wrote and produced the charity mega-hit single 'Do They Know It's Christmas' in the process creating Band Aid and the subsequent Live Aid worldwide events with The Boomtown Rats' Bob Geldof.
His 2019 tour will see Ure returning with an updated format of a show he first  presented 25 long years ago.
The tour will see him performing songs from the Ultravox catalogue alongside his solo work and there will also be an opportunity for suggestions from the crowd to pick a song for him to perform. Its been said  he will answer pretty much anything the audience can think of asking him about from his 40 year professional career right through to his critically appraised Orchestrated CD released only last year.
Accompanying Midge Ure on tour will be multi-instrumentalists Cole Stacey and Joe O'Keefe.  The pair will also open the show playing their own original material as India Electric Company.
Tickets for all shows are available from Midge Ure's official website by clicking here.
MIDGE URE – SONGS, QUESTIONS AND ANSWERS – MARCH – MAY 2019 UK TOUR
Eden Court, Inverness  Thursday 7 March
Concert Hall, Motherwell  Saturday 9 March
Queen's Hall, Edinburgh  Sunday 10 March
The Lemon Tree, Aberdeen  Monday 11 March
Grand Pavilion, Porthcawl  Thursday 18 April
Gatehouse Theatre, Stafford  Friday 19 April
Atkinson, Southport  Saturday 20 April
Capitol Theatre, Horsham Wednesday 24 April
Colosseum, Watford  Thursday 25 April
The Stables, Milton Keynes  Friday 26 April
The Apex, Bury St Edmunds  Sunday 28 April
The Lights, Andover  Tuesday 30 April
The Forum, Barrow  Thursday 2 May
Drill Hall, Lincoln  Friday 3 May
Anson Rooms, Bristol  Saturday 4 May