Motörhead are not a band to do thing by halves, and what better way to celebrate their 40th anniversary year than release their 22nd studio album 'Bad Magic'.
The album is due for release on August 28th via UDR Music / Motörhead Records.
Lemmy and the lads have recorded 13 tracks for this album including a cover of The Rolling Stones' 'Sympathy For The Devil' and a collaboration with Queen guitar legend Brian May on original track 'The Devil'.
The artwork for the album has also been released (below).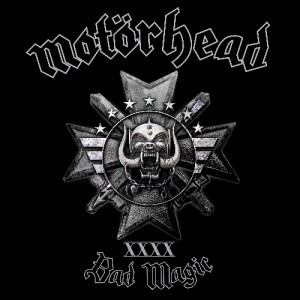 The tracks for 'Bad Magic' are as follows:
1.     Victory Or Die – 3.09
2.     Thunder & Lightning – 3.06
3.     Fire Storm Hotel – 3.35
4.     Shoot Out all of Your Lights – 3.15
5.     The Devil – 2.54
6.     Electricity – 2.17
7.     Evil Eye – 2.20
8.     Teach Them How To Bleed -3.13
9.     Till The End – 4.05
10.  Tell Me Who To Kill – 2.57
11.   Choking On Your Screams – 3.33
12.  When The Sky Comes Looking For You – 2.58
13.   Sympathy For The Devil – 5.35
Motorhead are also set to tour Europe in late 2015. They will be joined Slayer and Anthrax on the band's now legendary Motorboat cruise which will sail from Miami, Florida to Nassau , in the Bahamas, from September 28th to October 2nd,
For more info got to:
http://www.facebook.com/officialmotorhead
Check out Motorhead performing their classic 'Killed By Death' live, in the video below: