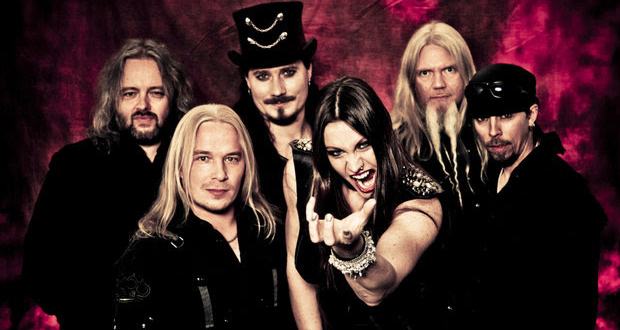 NIGHTWISH's yet-untitled record will be the band's first studio album to feature Dutch vocalist Floor Jansen and is set for release in Spring 2015 via Nuclear Blast. The symphonic metal maestros have been rolling out a series of trailers covering the new recording and today sees the release of the 7th trailer, titled 'Almost There!'.
Fans can watch the band recapping their summer of recording the new album at the NIGHTWISH summer camp, which has ultimately led to the guys being ahead of schedule:
Keyboard player and main songwriter Tuomas Holopainen commented: "We are actually ahead of our schedule. Incredibly, Floor has sung about two songs a day. Marco cut the final bass parts in 1.5 days and Emppu did the rhythm guitars in a week. I think it was because everything was so well-rehearsed this time. We've tried to work more like a band."

Added vocalist Floor Jansen: "Tuomas challenged me, using everything I have to offer. High, low, soft, whatever, but definitely lower stuff and very soft and intimate things. Something that more by coincidence was something that I kind of missed doing. Something I haven't explored much and Tuomas wrote parts where I have to use this completely, where I have to go into it entirely. I'm very happy with what came out there."
NIGHTWISH recently revealed that the famed evolutionary biologist and atheist writer Richard Dawkins will appear as a very special guest on the band's eighth studio album.
The band visited London to record parts of the album with an orchestra at the London based Angel Studios, along with Pip Williams. Floor commented on the experience: "This was the first time I witnessed the recording of an orchestra and it was so enchanting! I was stunned by the professionalism of the players, the conductor, the studio engineers and by the amazing arrangements Pip made again. To hear it all come together is amazing, goose bumps all the way through!!!"
Be sure to check out the series of 'making of' clips covering the new album over on YouTube:
Trailer #1 – The Cabin: youtube.com/watch?v=BB1IrA8FwrY
Trailer #2 – By The Lake: youtube.com/watch?v=lIhsFClj0U4
Trailer #3 – Inside His Head: youtube.com/watch?v=GQ9PFUZ9uGs
Trailer #4 – The beginning of the Nightwish summer camp: youtu.be/tJF4Twus_08
Trailer #5 – More campers: youtu.be/On9V0QBoFW4
Trailer #6 – New Hometown:  youtu.be/XxcuVtdR6po
You can also order the most current NIGHTWISH release Showtime, Storytime below:
CD + DVD –  http://smarturl.it/NIGHTWISHShowtime
iTunes (live album incl. digital booklet) –  http://georiot.co/2SNi