British thrashers Onslaught have revealed the details for their new album, titled VI.
The boys will be releasing the new album this September on AFM Records. The band gave some comments on the new material:
"We really pushed ourselves to the limits in making this record…and I think that truly shines through in the final results. "VI" is the most brutal and technical album Onslaught has ever made; no question, it's 'Old School, but it's contemporary and it's fucking aggressive in the extreme, with a few big surprises thrown in for good measure..! We've gone about the whole album making process with a completely different approach and mind set this time, ranging from the artwork (by Par Oloffson) through to the final mixes with Thomas 'Plec' Johansson, who I must single out for mention along with our drummer Michael Hourihan; he was really upping the ante in the ass kicking stakes..!!!!"
Check out the artwork and tracklisting below!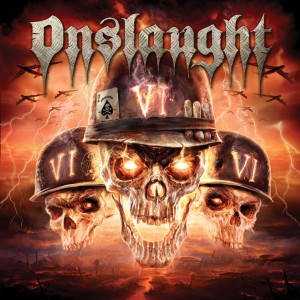 1. A New World Order
2. Chaos Is King
3. Fuel For My Fire
4. Children Of The Sand
5. Slaughterize
6. 6 6 'Fuckin' 6
7. Cruci-Fiction
8. Dead Man Walking
9. Enemy Of My Enemy
10. Shellshock (Bonus Track)
VI will be released on September 23rd via AFM Records.