Anyone who's been into Metallica for 10 years or more, or knows a fair bit about their history will know of Jason Newsted. He was their bassist for over 10 years of their career and it was a shock and shame that he left when he did, as his contributions on bass and backing vocals were a big part of their live show. Jason would even sometimes he'd take centre stage and sing verses in Hetfield's place. So now after releasing his first solo project Echobrain, a stint from being touring bassist for Ozzy Osbourne, playing bass for Voivod and being involved in US reality show 'Rockstar Supernova' Jason's returned to play some metal as the title of the EP suggests.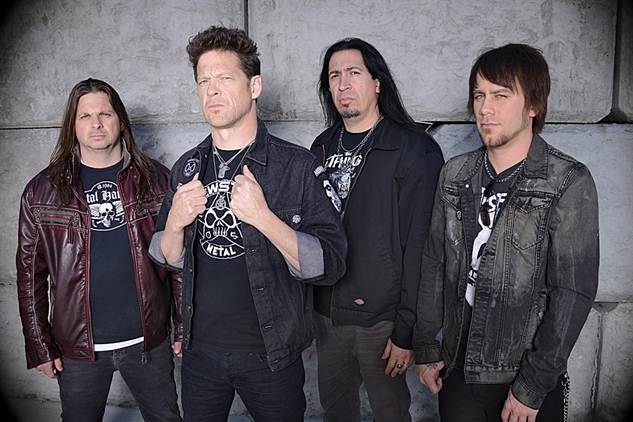 Upon initial listen it's somewhat understandably Metallica esque with some mid tempo chugging being the main name of the game, reminiscent of 'The Black Album.' The opening track 'Heroic Dose' is littered with this and is a satisfying listen at first but sadly ends up being a generic plod along. 'Soldierhead' picks up the pace in an overall thrashy affair. 'Ampossible' is one of the highlights of the album, things start to click and become a bit more noticeable with some catchier riffs and a lot more style and groove infused into the mix. However, this is merely a glimmer as things start to go into a bit of a lull until the last few tracks where there's some promising ideas on show in 'Twisted Tale Of The Comet', there's some good lead guitar work that compliments the vocals well.
Newstead – Soldierhead

I was hoping that this would be a great album and whilst it's not bad a good majority of the album is pretty average, and there are glimmers of great ideas. Jason's vocals are pretty powerful sounding and have a decent amount of clarity without either aspect being sacrificed for the other which many vocalists struggle with. Considering how long it's been since Jason has done a project of his own this could be a case of casting the rust off to get him back into playing and writing. With that in mind I consider this album to be more of a proving ground for himself so that he can start to build something of his own outside of the shadow of the bands he's been in previously. So if that's indeed the case then I consider this to be a decent first building block on his project's career, if he can take the good parts of this album and hone and refine them then I have no doubt that his next album could end up being something pretty special.
Favourite Tracks: Soldierhead, Ampossible
6/10