2019 marks the 50th anniversary of the late Rory Gallagher's recording career.  To mark the occasion Universal will release rare and unreleased recordings of him playing his favourite blues material, taken from the vaults of the legendary guitarist estate's archive. Aptly named Blues it will be released on 31st May.
For those too young to be aware, Rory Gallagher was a man both The Rolling Stones and Deep Purple sought out to replace their own legendary guitarists. Those guitar heroes who've accorded him respect range from his obvious contemporaries Eric Clapton and Jimi Hendrix to modern blues rock artists like Joe Bonamassa, the mainstream rock connection who hold him in esteem includes Guns N' Roses' Slash, Queen's Brian May and Rush's Alex Lifeson, more left of field admiration is found via The Smiths' Johnny Marr and The Manic Street Preachers' James Dean Bradfield and even current pop sensations like Ed Sheeran. Without doubt; a true musician's musician.
Blues will be available as a 15 track 1CD/2LP version, limited edition blue vinyl 2LP and a deluxe 36 track 3CD version featuring previously unreleased studio and virtuoso live performances with Gallagher, alongside guest performances with musical legends such as Muddy Waters, Albert King, Jack Bruce, Lonnie Donegan and Chris Barber. The deluxe edition also comes with an extensive booklet comprising previously unseen photographs plus a new essay by award winning blues rock writer Jas Obrecht.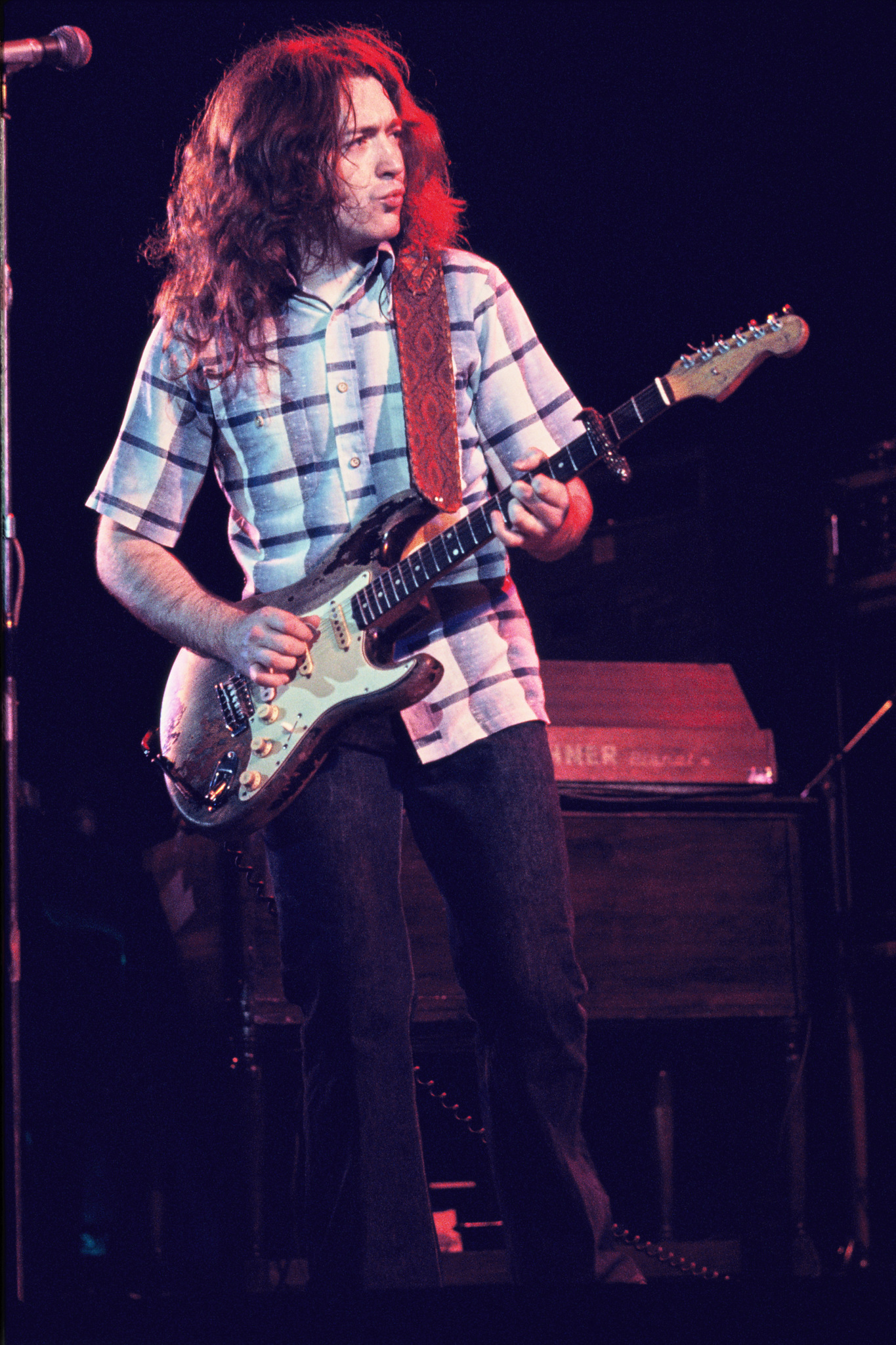 From a quick overview of the tracks to be released, standouts to look out for will be a live performance of 'Born Under A Bad Sign' from German rock show Rockpalast alongside Jack Bruce from 1991 and an acoustic version of the Deuce album's opening rocker 'Secret Agent' from RTE Irish TV in 1976.
Gallagher's career began when he joined the Fontana Showband, a uniquely Irish phenomenon of the early sixties where such acts covered rock 'n' roll hits alongside traditional dance tunes. It was not long before he branched out, forming the power trio Taste whose performance at the Isle Of Wight Festival would go on to make Gallagher a star. He went solo after they split in 1970, bass player Gerry McAvoy his constant right hand man, alongside assorted drummers, occasional keyboard players and latterly harmonica sidemen.
Throughout all those years he stayed true to the blues as his musical foundation but expanded its vocabulary, and almost always sounded contemporary, if not revolutionary in his playing. His work rocked, he sang folk tales and his actual live playing was a sight to be seen as much as heard. The Tony Palmer directed documentary Irish Tour '74 remains a testament to this quiet man off-stage whose force of nature live appearances in a troubled Northern Ireland brought conflicting sides together. Worldwide the album sold around two million copies of 12" heavy duty vinyl.
A recipient of Melody Maker's International Guitarist Of The Year award he would tear up the album charts numerous times during his career; his live performances still talked about decades later by those who'd witnessed him in full flight. However, in 1995 following a liver transplant, he sadly passed away from complications. He was aged just 47.
15,000 people lined the streets of Cork when he was laid to rest. The music world was united in grief over his passing, not least his having paved the way for the likes of Thin Lizzy and U2. There are statues, sculptures, a theatre and a city square among other accolades named in his honour in Ireland, road names and conventions in Europe.
While the man passed away his music lives on and now previously unheard recording are being released and those who've yet to experience his playing will get the opportunity to do so too.
Blues by Rory Gallagher can be pre-ordered by clicking here.