Dutch metal sextet ReVamp have revealed the title and artwork for their upcoming new album.
The album, set to be titled Wild Card, has been described by singer Floor Jansen as:
"…the most aggressive album I've ever made and in the lyrics I tell a lot about my personal experiences of the last years. This resulted into some heavy stories and some openhearted 'screams' I needed out of my system. It matches the violence of the music in a great way, we wrote as a great team! But not one sentence or word can really cover the contents of this album. Its variety in all its ingredients makes it almost impossible. A wild card is an unpredictable and unforeseeable factor. You don't know what you're getting, or when. That's this album! It's 100% ReVamp and it's your wild card!"
Check out the artwork below!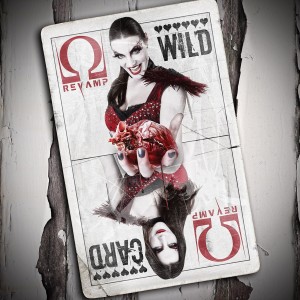 Floor also gave her thoughts on the album's artwork and its relation to the sound of the record:
"I am the queen of hearts on it, who is a wild card herself. You see a 'nice' and a 'nasty' queen. The nasty one has a cracked lip, cuts in her face and a bleeding heart in her hand. The other queen looks nice even though queens of hearts never truly are… Again, what is it you're going to get? In that respect it visualizes the music, from aggressive and nasty to melodic and pretty."
Check out the first trailer for Wild Card featuring studio footage and song snippet below!
Wild Card will be released August 26th in the UK via Nuclear Blast Records.