Punk rock band Rise Against are set to release their 7th studio album 'The Black Market' on July 14th via Interscope Records.
'The Black Market' is said to focus on the cost of self-awareness as Tim Mcllath speaks of the new album saying "Rise Against has always been a political band, but also a personal band, we've always had songs that have a foot in both worlds. This album is a lot more introspective to me."
The Black Market' is available for pre-order now. All fans who purchase the album on iTunes will receive the band's current single 'I Don't Want To Be Here Anymore' along with the brand new track 'The Eco-Terrorist In Me' immediately. There are also various packages and bundles available on the bands website.
"It's a pretty simple and visceral escapist sentiment," comments Tim Mcllath. "It's about not wanting to be in a place, physically or mentally. It's something most of us have said to ourselves, if not aloud, at some point in our lives. Whether you feel you are being exploited or ignored or you can just imagine a better place, it's about longing for that place and finally admitting to yourself that you aren't content with you current situation. But it doesn't have the answer either. It's just the first step."
Catch Rise Against on tour this November!
11/3/14 – Sheffield, O2 Academy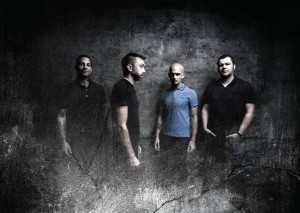 11/4/14 – Glasgow, Scotland, O2 Academy 11/6/14 – Birmingham, O2 Academy 11/8/14 – Manchester, O2 Apollo 11/9/14 – Southampton, O2 Guildhall 11/10/14 – London, O2 Academy Brixton 11/11/14 – Brussels, Belgium, Ancienne Belgique 11/13/14 – Amsterdam, NL, Heinekein Music Hall 11/14/14 – Paris, FR, Bataclan 11/16/14 – Frankfurt, DE, Festhalie 11/17/14 – Dusseldorf, DE, Mitsubishi Electric Halle 11/19/14 – Hamburg, DE, O2 11/20/14 – Berlin, DE, Velodrom 11/22/14 – Copenhagen, DK, Amager Bio 11/23/14 – Stockholm, SE, Arenan 11/25/14 – Oslo, NO, Sentrum Scene