Since Mastodon released the amazing 'The Hunter' in 2012, their stock has been rising higher and higher. 'The Hunter' entered the Billboard Top 200 Album chart in at the Top 10 and found its way onto several Year End/Best Of critics' lists, including those compiled by Rolling Stone, Spin, Revolver, Decibel and many more. So, the release of new album 'Once More 'Round The Sun' has been greeted with much anticipation, and also debuted at number 10 on in the UK chart, as well as number 6 on the Billboard chart, and Top 20 around the world!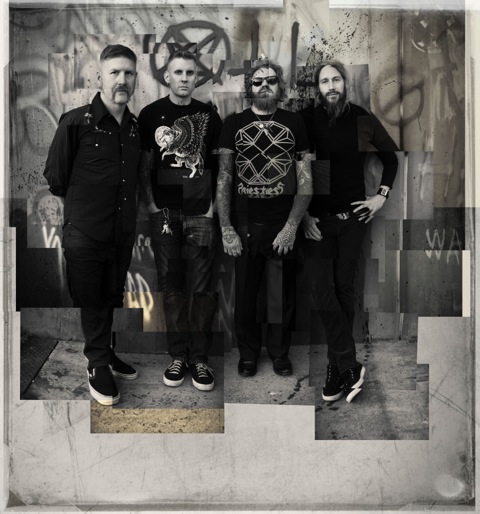 It's clear from the first listen that the band have evolved so much through their musical journey. This is evident on the opening track 'Tread Lightly' which has a very accessible feel to it. Mastodon are known for their progressive influences and odd time signatures, however this song feels very straight, and It's still got that signature Mastodon feel.
Other highlights are 'The Motherload' with drummer Brann Dailor's crushing drum fills – the eerie 'Chimes at Midnight' – and the up-tempo 'Feast Your Eyes'. The last track has a thrash feel to it, not unlike a more progressive Anthrax. Just in these three songs, there's incredible variety and this is a huge strength of the band.
'High Road' is the lead single of the album, and you can really see why. This track feels like a summary of their sound, featuring a bit from each album. The excellent drop a riff, pure genius chorus, mixed with a guitar solo that sounds like it came from another dimension.
In summary, the guys in Mastodon have made one hell of an album. Their constant desire to challenge themselves and make music that pushes the envelope is why they're such an important band. 'Once More 'Round The Sun' is the next very confident step in their evolution and it's one which sees a mature approach to their music, keeping the listener and the band's own goals in mind. Fantastic. 'Once More 'Round The Sun' is available now on CD, and standard vinyl.
'Once More 'Round The Sun' was recorded in Nashville with Grammy Award-winning producer Nick Raskulinecz (Rush, Foo Fighters, Alice In Chains, Deftones).
9/10
Mastodon 'Once More 'Round The Sun' is out now via Reprise Records.
Catch Mastodon live on their UK tour. Get your tickets over at www.kililive.com / www.seetickets.com
November: 19th Dublin, Academy
20th Belfast, Limelight
22nd Southampton, O2 Guildhall
24th Manchester, Academy
25th Newcastle, O2 Academy
26th Glasgow, O2 Academy
28th London, Brixton O2 Brixton Academy
29th Birmingham O2 Academy December: 1st Nottingham, Rock City
2nd Bristol, O2 Academy
Mastodon – High Road [Official Music Video]