It is believed that the British have been using body art for more than 2,000 years. The ancient Greek explorer Pytheas of Massalia ( 330–300 BC) reported that the Celts of Britain were "people of forms" —  meaning people of pictures and shapes… and this specifically suggests that the ancient Brits painted themselves and probably tattooed their bodies.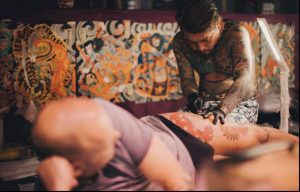 But tattoos didn't really advance in the rock 'n' roll world until the advent of heavy metal. And that is perhaps because, in the early days of Elvis, Chuck Berry and Bill Haley, a tattoo was seen as needlessly rebellious and, in any case, it didn't suit the clean-cut image that the stars wanted to project to their record buying public.
Counter-intuitively, tattoos also suggested conformity and compliance; because in the 1960s tattoos belonged mainly to older men (dads and grandads) who had served in the forces during the war years. It is understandable that the adolescent generation did not want to copy their parents. Therefore, none of the Fab Four had tattoos (Ringo has tattoos now, but these date from the late 1990s to the early 2000s) and if bands like the Stones wanted to be rebellious, they didn't want to do it by inking. Even the Sex Pistols (1975) seemed "clean" in comparison to some of today's rock stars!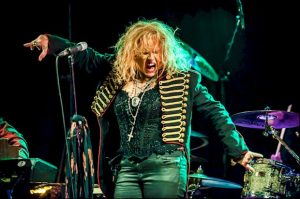 But legend has it that Ozzy Osbourne tattooed smiling faces on his knees while he served his sentence in Winson Green Prison, in the 1970s. And since that casual start, and particularly during the rise of glam metal in the 1980s, tattoos become the easiest visible way of acquiring an immediate rock 'n' roll status. A good amount of ink was considered to be a de rigueur statement of intent… it's the outward sign of an inclination to make loud music — and that's whether the artist is a rapper, metal head, pop rocker or even a country star. Now, it seems, everyone in the music biz wants to vaunt their ink.
THE LONDON TATTOO CONVENTION will be returning for its 15th year to the iconic Tobacco Dock in Wapping this coming weekend for an international festival of ink-art.
Expect to see the best artists on the planet, enjoy a fantastic environment with exhibitions and live drawings, and exciting performances by street artists and live music from bands such as the swampy-bluesey duo the Dusk Brothers, the Quireboys, the Urban Voodoo Machine, Hells Bells ( the AC/DC Tribute Act) and the legendary Never The Bride.
This is a must for all ink fans…
The International London Tattoo Convention
27th-28th-29th September 2019
Tobacco Dock
Images : www.thelondontattooconvention.com