Saxon have revealed they are set to release a new album of re-worked and re-imagined version of their classic hits.
The new album was recorded, mixed and mastered alongside Andy Sneap in Derbyshire and is said to uncover the otherwise 'dormant layers' of Saxon's songs. Check out the artwork and track listing below!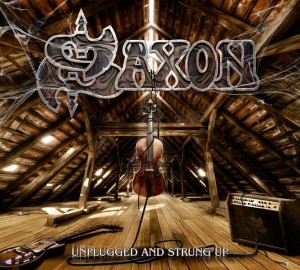 Stallions Of The Highway (Remix)
Crusader (Orchestrated Version)
Battle Cry
The Eagle Has Landed (Orchestrated Version)
Red Star Falling (Orchestrated Version)
Broken Heroes (Orchestrated Version)
Call To Arms (Orchestrated Version)
Militia Guard
Forever Free (Re-recorded Version)
Just Let Me Rock (Re-recorded Version)
Frozen Rainbow (Acoustic Version)
Iron Wheels (Live Acoustic Version)
Requiem (Acoustic Version)
Coming Home (Acoustic Version)
Saxon will release Unplugged and Strung Up on November 19th.