Saxon will release an exclusive box set containing nine vinyl albums of all their studio albums recorded between 1991 to 2009 – Eagles and Dragons is out on 18th March, from Demon Records.
Eagles and Dragons features nine seminal NWOBHM albums previously only released on vinyl in some regions including Germany, Italy and the UK, and in very limited amounts. These new luxury 180 gram vinyl versions, including inner sleeves with all the lyrics, are a must-have for fans and collectors. The hand-numbered outer slipcase box features a specially commissioned, brand new cover painting by Saxon's artist-in-residence, Paul Gregory. In addition, 500 copies with a frame-able print of the cover signed by vocalist Biff Byford will be available exclusively from Demon's D2C Store.
Byford commented: "From 1991's Solid Ball of Rock  to 2009's Into the Labyrinth this is the first time we have ever had a vinyl box set of nine albums in one package –  never to be done again – with exclusive cover art work from Paul Raymond Gregory: can't wait to get my hands on one!"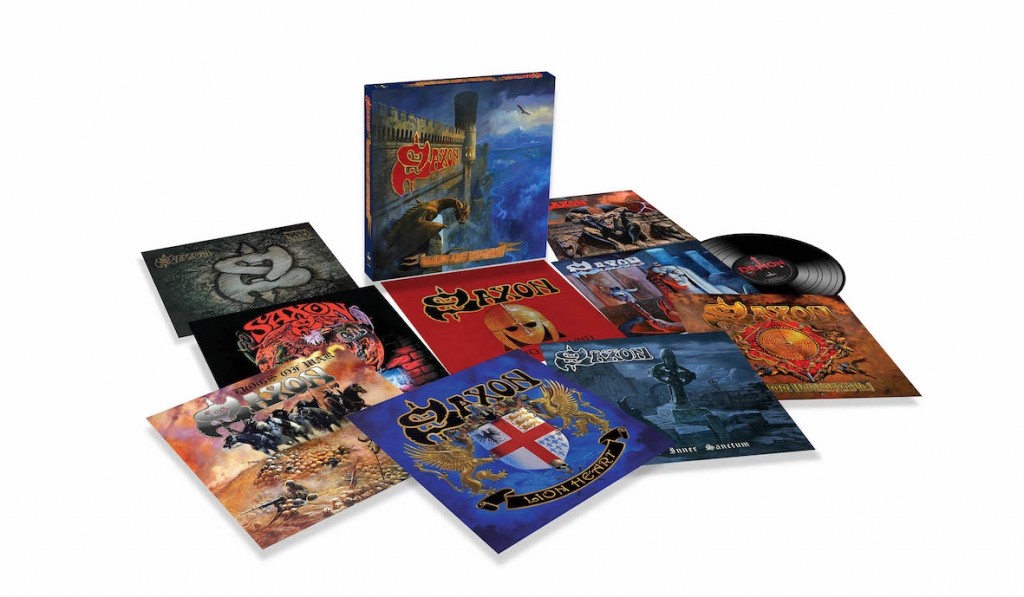 The record featured are Solid Ball of Rock (1991) that includes 'Solid Ball Of Rock' and 'Requiem (We Will Remember)'; Forever Free (1192) featuring the title track and 'Iron Wheels'; Dogs of War with the title track, 'Altar Of The Gods' and 'Hold On'; Unleash The Beast (1997) includes 'Terminal Velocity' and 'All Hell Breaking Loose'; there's 'Song Of Evil' and 'All Guns Blazing' on Metalhead (1999); 'Court Of The Crimson King' and 'Rock Is Our Life' on Killing Ground (2001); 'Witchfinder General' and 'Beyond The Grave' on Lionheart (2004); The Inner Sanctum (2007) features 'If I Was You' and 'I've Got To Rock (To Stay Alive)' and Into The Labyrinth (2009)  that includes 'Live To Rock' and 'Valley Of The Kings'.
Saxon released their self-titled debut in 1979, followed by Wheels of Steel the following year that reached #5 in the UK charts and gave fans two classics in the title track and '747'. They established themselves as one of the icons of the New Wave Of British Heavy Metal throughout the 80s. Later the band tried to attack the US market taking a more melodic direction with release of Destiny  in 1988, before going back to their original sound with 1991's Solid Balls of Rock, reaffirming their influence on the European metal scene. They continued touring and recording enjoying renewed success, with 2015's Battering Ram reaching the UK Top 50 and #12 in Germany. Saxon saw album sales topping 15 million worldwide, including 8 UK Top 40 albums across their career; influencing the likes of Metallica, Megadeth, Pantera, Motley Crue and others along the way.