The Downes Braide Association (DBA) release new album Skyscraper Souls on 17th November through their own label X2X Records distributed through Cherry Red. This is the third collaboration from keyboard player Geoff Downes and singer, songwriter and producer Chris Braide, and follows their previous critically-acclaimed releases Pictures of You (2012) and Suburban Ghosts (2015).
Now based in LA, Braide has written and produced songs for Beyonce, Paloma Faith, Britney Spears, Christina Aguilera, Marc Almond and others while Downes has been touring the world as keyboard player with both Asia and Yes.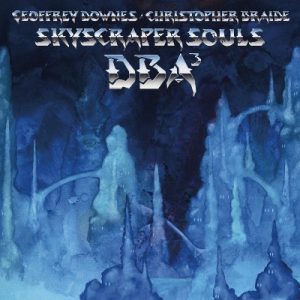 The album started as a series of sketches Downes had been working on after a break from touring last year, turning his pent-up energy into composition and the ideas that literally poured out. Braide while having written multitudes of pop hits for pop stars, apparently has a special place in his heart for expansive studio recordings like Yes's Close To The Edge and Mike Oldfield's Tubular Bells  stemming from when he was a kid and responded positively to what he heard from Downes.
DBA has always had to fit around their individual extensive commitments and with Skyscraper Souls that has been taken one step further, being co-written remotely as at no time were the pair ever in the same room.
"Geoff would send me folders full of stuff such as the magnificent piano pieces which turned into 'Glacier Girl' and Prelude," said Braide. "As soon as I heard the chords I was writing lyrics like a mad man and before long the album started to materialise."
"The ideas themselves were in a very rough format, but with the melodies & basic harmonies," Downes added. "Chris started playing around with these, and often, they came back with some radical changes, but Chris was always very conscious to retain my original idea"
Skyscraper Souls is a more traditional progressive/classic rock/band album than their previous material, but retains a strong pop aesthetic and features several great guest contributions, including Marc Almond, Andy Partridge from XTC and Kate Pierson from The B52s.
The album also features the rhythm section of drummer Ash Soan (Trevor Horn, Squeeze, Del Amitri, Adele etc) and bassist Andy Hodge. "Having such an amazing rhythm section really brought the songs to life. With previous albums we always used drum machines and samples," Braide remarked. "There is so much warmth and movement in these recordings. They breathe!"
The pair feels that Skyscraper Souls is their strongest album to date. It is said to contain motifs and themes that recur and flow throughout while strong melodies kept to the foreground. The full track listing is as follows: 'Prelude' (ft Andy Partridge – XTC), 'Skyscraper Souls' (ft Kate Pierson – B52s), 'Glacier Girl' (ft Andy Partridge), 'Angel On Your Shoulder' (ft Matthew Koma), 'Tomorrow' (ft David Longdon – Big Big Train) 'Lighthouse' (ft Tim Bowness), 'Skin Deep' (ft Marc Almond), and 'Darker Times' (ft Andy Partridge).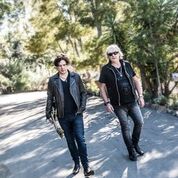 Away from DBA, Chris Braide has been writing music for movies in LA, most recently in the animated field a new film called Leap and for a project Trevor Horn is working a song called 'Sky Show'. With SIA he wrote 'Unstoppable' for the Olympics, wrote and produced a new Marc Almond album, due for 2018, as well as the singer's next single 'Embers' among other production and film scoring work. A short video of him discussing Skyscraper Souls can be found by clicking here.
Aside from touring worldwide with Yes and Asia, Downes has also been working with Trevor Horn, "putting together some new Buggles ideas" alongside writing film and library music and other outside projects.  A short video of him discussing Skyscraper Souls can be found by clicking here.