Already an excellent line-up! Skindred have been announced to this years Hard Rock Hell Festival! Skindred join Airbourne and Black Star Riders for this November's Hard Rock Hell 7 Nov 28-30th.
Hard Rock Hell is topping itself this year, with one of the ebst line-ups we have seen! The event has been sold out since May but a limited handful of day tickets had been kept back and have been made available to support the addition of the new acts.
HRH are also pleased to be able to announce the addition of Germany Power Metallers Alpha Tiger plus a welcome return for Cambridge rockers The Treatment and Scotland's finest Logan and Attica Rage who both come back to join this year's festivities.
Skindred front man Benji Webbe says
"Bring the dead and we'll bring them alive! There's only two things a crowd can do while me and the boys are rocking a stage – It aint about people watching us it's about us ALL rocking together. Can't wait to step on stage and bring the noise! "Hard Rock Hell! Prepare to be rocked!!!"
The line-up so far:-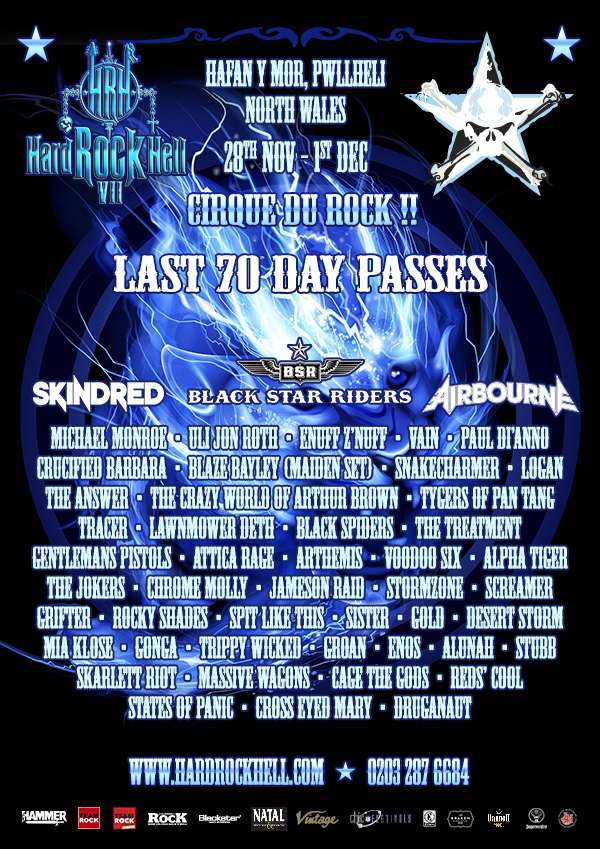 Black Star Riders Skindred Airbourne Michael Monroe Uli Jon Roth Enuff Z'Nuff Vain Paul Di'Anno Crucified Barbara Blaze Bayley (Maiden Set) Snakecharmer Logan The Answer The Crazy World of Arthur Brown Tygers of Pan Tang Tracer Lawnmower Deth Black Spiders The Treatment Gentlemans Pistols Attica Rage Arthemis Voodoo Six Alpha Tiger The Jokers Chrome Molly Jameson Raid Stormzone Screamer Grifter Rocky Shades Spit Like This Sister Gold Desert Storm Mia Klose Gonga Trippy Wicked Groan Enos Alunah Stubb Skarlett Riot Massive Wagons Cage The Gods Reds' Cool