Steve Hackett will release his latest album The Night Siren on 24th March 2017 through InsideOut Music (Sony).
As with his previous album, Wolflight, the former Genesis guitarist will be joined by musicians from several different countries, his intentions this time being to celebrate multicultural diversity and unity.  Featured will be singers from Israel and Palestine, actively campaigning to bring Jewish and Arabic people together, instrumentals from the USA and Iraq and a multiplicity of sounds, including the exotic strains of Indian sitar and Middle Eastern tar and oud, the Peruvian charango and Celtic uilleann pipes.
Hackett's ethos behind The Night Siren is that we live in times of unrest, and he is expressing his belief that the world needs more empathy and unity.  This multi-cultural approach towards instrumentation and musicians from different parts of the world being both a development of his eclectic approach to music and a demonstration that music can bring people together, even from war-torn regions.
"This latest waxing represents a bird's eye view of the world of a musical migrant ignoring borders and celebrating our common ancestry with a unity of spirit, featuring musicians, singers and instruments from all over the world," Hackett declared. "From territorial frontiers to walled-up gateways, boundaries often hold back the tide.  But while the night siren wails, music breaches all defences. To quote Plato: 'When the music changes, the walls of the city shake'."
Alongside Steve Hackett's regular collaborators: Roger King, Nad Sylvan, Gary O'Toole, Rob Townsend and Amanda Lehmann are Christine Townsend (violin & viola), Dick Driver (double bass) and Troy Donockley (Celtic Uilleann) plus international contributors in the personage of singers Kobi and Mira (from (Israel and Palestine), drummer D'Virgilio (the USA), Malik Mansurov (Tar) from Azerbaijan & Gulli Breim (drums & percussion) from Iceland,
Available in a variety of editions including digital download, vinyl, CF and Blu-Ray, The Night Siren  ranges from 'Behind the Smoke', focusing on the plight of refugees throughout the ages, to the penultimate track 'West to East' that reflects on the damage of war and the hope for a better world.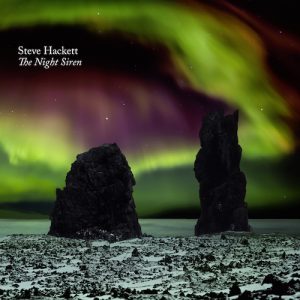 Full Track Listing for The Night Siren:
     Behind the Smoke
     Martian Sea
     Fifty Miles from the North Pole
     El Niño
     Other Side of the Wall
     Anything but Love
     Inca Terra
     In Another Life
     In the Skeleton Gallery
   West to East
   The Gift.
As previously revealed at RAMzine, Steve Hackett will be returning for a 15 date UK tour in April 2017, billed as Genesis Revisited with Classic Hackett that celebrate the 40th anniversary of his final Genesis studio album Wind and Wuthering, plus several other band and solo career classics alongside live debuts of songs from The Night Siren.