Another 5 bands have been added to Takedown Festival 2013!
The Defiled, Hang the Bastard, Hey Vanity, Our Hollow Our Home and Elithia are the newest names billed to play at this year's festival.
Other bands set to appear include The Blackout, Don Broco, We Are the Ocean and Sonic Boom Six.
Check out the complete line up below!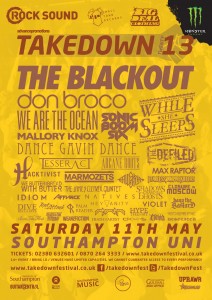 Tickets can be purchased from here. Takedown Festival 2013 will take place at Southampton Uni on Saturday 11th May.
Keep up with Takedown Festival and other UK festivals with our UK Festival Map 2013.