Birmingham band Templeton Pek have just released their new album Watching The World Come Undone on Drakkar Records.
Neal Mitchell (vocals, bass), Kev Green (guitar, vocals) and Simon Barford (drums) got together back in 2005, and in line with classic punk traditions, they decided to channel their discontent over social grievances into their music to address the growing injustice in the world – We're talking racism, sexism and xenophobia, alongside their music reflects a deep and merciless manifestation of their personal demons.
Establishing themselves playing small punk clubs and moving on to increasingly big venues, the band brought out their debut album No Association in 2009,  following it with Scratches And Scars (2011), Signs (2013) and New Horizons (2015), and the EP Slow Down For Nothing back in 2012. In between playing shows worldwide, supporting the likes of Bad Religion, Sum 41 and Zebrahead.
Today with a political climate more complicated than ever where nationalism and far-right ideas have once more become acceptable, and the Great Britain voting to leave the EEC, Templeton Pek have responded with Watching The World Come Undone.
"Brexit was permanently on our minds when we were writing this album," said Neal Mitchel. "From the perspective of a touring musician it's difficult enough as it is just to exist. The potential financial and logistical restrictions that we are about to face are worrying, never mind the other consequences for the whole country." This frustration is reflected on their single 'The Awakening', among others, wherein its chorus they sing: "Don't let me down now, they're reigning over you, cut through the sound, disconnecting you".
"It's as close to a concept album as we could get. From day one of writing the album, we had a clear idea of its vibe and general feel," said Mitchell.
The result is a recording that questions: Why is isolation more important than cooperation? Why do we destroy the world that we live in? Why do we sabotage human relations and ourselves? On the other hand the trio is still positive about the future – Keeping their eyes firmly on the last glimmer of hope.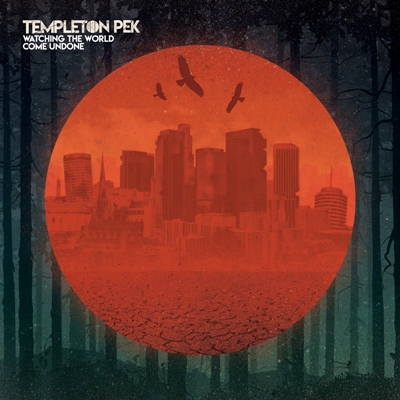 The fictitious city on the artwork emphasises the band's fixation with the self-destruction of mankind and is, according to Mitchell (who created it); part of the total work of art that is Watching The World Come Undone: "Like Earth itself we start off with abundant green landscapes, like the innocence of our youth. We then gradually go on to obstruct, develop and pollute it beyond recognition, the colours oppose each other and are radically different, the orange cutting crudely and uncomfortably through the calm green."
After ten busy years, Templeton Pek are veterans of the melodic hardcore scene and have high expectations of Watching The World Come Undone: "From the beginning we wanted this to be one of the albums that contain one great song after the other," said Mitchell. Every one of the ten tracks had to have single potential. To this end, the trio teamed up with fellow Brummie Davey Warsop (Badcop Badcop, Vanishing Line) to produce the record that features the following tracks: 'Nowhere To Hide', 'Oblivious', 'The Awakening', 'Axis', 'Aftermath', 'Sirens', 'Collision Course', 'Black Hearts', 'City Of Fire' and 'On Our Own'.
Templeton Pek will play the Amplified Festival, Gloucester on 6th July and Rebellion Festival, Winter Gardens, Blackpool on 3rd August, whole this April they will be Sonic Boom Six.