The Steelhouse Festival located on a farm in South Wales, is now in it's fourth year. The Classic Rock line-up now includes former Skid Row vocalist Sebastian Bach, Electric Boys, Toseland and The Amorettes.
Headlining the festival will be Europe and Black Star Riders. The Steelhouse Festival takes place on Saturday July 19th and Sunday July 20th.
Sebastian Bach has sold in excess of 20 million records worldwide, and releases his new album Give 'Em Hell on April 22nd. Stockholm's Electric Boys are best known for their debut 1989 album Funk-O-Metal Carpet Ride and their rock anthem All Lips N' Hips. Former world superbike champion, James Toseland is best known for his critically acclaimed debut album Renegade, while Scottish female power trio, The Amorettes first came to prominence with their 2011 debut album Haulin' Ass. 
"We are incredibly excited to announce these additions to this year's festival line-up …The Steelhouse Festival is now in its fourth year, and the quality of artists keeps getting better and better.  To have Europe and Black Star Riders headline this festival after only three years is quite some achievement, but then to add a world-renowned rock icon like Sebastian Bach as special guest is really a massive testament to the loyal following the festival is attracting." 
says Steelhouse Festival's co-founder Sally Ann Evans.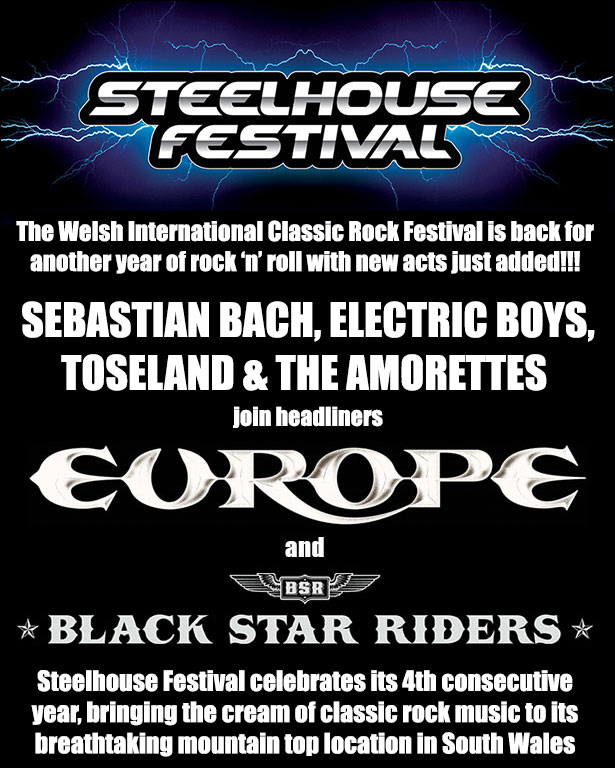 To order tickets visit the official festival website: www.steelhousefestival.com