London's most rock n' roll street party is set to kick off on the 31st May. Camden Rocks Festival is proud to announce that British rock power-trio The Subways will be joining the line up that's going to explode across Camden Town.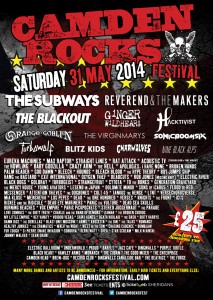 Bassist Charlotte Cooper explains: "It feels like ages since we've played the UK and what better way to start the comeback than with Camden Rocks."
The Subways will be joined with the likes of Reverend and the Makers, and The Blackout to name a few.
Organiser Chris McCormack explains: "The line up is really taking shape now, it's a good mix of all genres of guitar based bands that Camden is renowned for. It's going to be a great day."