An Evening With Todd Rundgren – Live At The Ridgefield is a multimedia experience starring the whiz-kid multi-instrumentalist, singer/songwriter and famed record producer that becomes available on CD, vinyl, DVD and Blu-Ray courtesy of Cleopatra Records on 26th August 2016.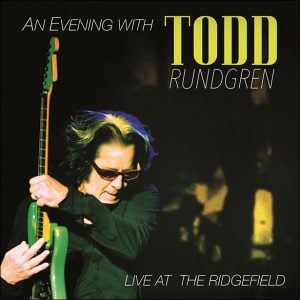 Recorded live at the Ridgefield Playhouse in Ridgefield, Connecticut, USA  last December 15th, the recordings feature Rundgren with a full live band performing some of his best known songs such as  'Hello It's Me', and hit singles 'I Saw The Light' and 'Bang The Drum'. The set list pretty much encompasses Rundgren's career taking in songs from those classic rock early solo albums that made his reputation 1972's Something/Anything and 1973's A Wizard, A True Star through to 2015's Global plus his progressive rock and power pop ventures fronting the band Utopia and reaching back even further to 1968 to include songs by the British Invasion-influenced group The Nazz he was guitarist with – songs that haven't played live in decades.
The importance of Todd Rundgren as a consummate singer/songwriter embracing a wide spectrum of musical styles, from blue-eyed soul to heavy metal and even bossa nova can too often be overlooked. However, if the quality in evidence during his performance of his classic 'Black Maria' (video featured below) with some scintillating guitar work and his voice in fine form is anything to go by, An Evening With Todd Rundgren – Live At The Ridgefield should resolve such oversights promptly.

A true maverick and pioneer, ahead of the game developing video and computer software for use in music, his work as a record producer is no less impressive, and most certainly diverse taking in the mega-success of Meatloaf's  Bat Out Of Hell (it's Rundgren's guitar that sounds like a Harley revving up near the beginning) to 70s USA heavy metal band Grand Funk Railroad 's We're An American Band hit album to seminal works by blue-eyed soul act Hall & Oates and punk acts like The New York Dolls and Patti Smith, with XTC, Cheap Trick and The Band thrown in for sheer diversity.
An Evening With Todd Rundgren – Live At The Ridgefield could be a very special release. We'll find out come 26th August 2016.