RAMzine was lucky enough to catch Ugly Kid Joe headline Hard Rock Hell back in 2012. It was a set that we will always remember, as some slit walkers (who were entertaining the crowd) spontaneously joined the band on stage for 'GodDam Devil'. The set was really engaging with the audience, and promoted a fun Hard Rock atmosphere. Ugly Kid Joe, are a band that you do not want to miss live! The good news is you can catch them this September at some great intimate venues! (Dates below).
It's been a staggering 19 years since the release of the last Ugly Kid Joe album Motel California, so we are very excited to confirm that the band will be releasing new studio album Uglier Than They Used Ta Be.
"It's a full circle of sorts," says UKJ frontman Whitfield Crane "there was a lot of love and talent in one room and that is exactly what this album sounds like."
The album was recorded at Balance Studios in Covington, Louisiana under the helm of Dave Fortman (Slipknot, Godsmack, Evanescence) and featured a 7-member line up of Ugly Kid Joe – that they call the "Seven Headed Monster".
Line-up: Whitfield Crane (Vocals) and Klaus Eichstadt (Guitars) teamed up with Sonny Mayo (Guitars), Shannon Larkin (Drums), Zac Morris (Drums), Cordell Crockett (Bass) and Dave Fortman (Guitars) to write and record in the studio. The result is the most cohesive sounding Ugly Kid Joe record to date.
The album also features a special guest appearance from Motörhead guitarist Phil Campbell, as the band include a cover of 'Ace of Spades'. Phil also appears on the tracks 'My Old Man' and 'Under The Bottom'.
Uglier Than They Used Ta Be – Track Listing: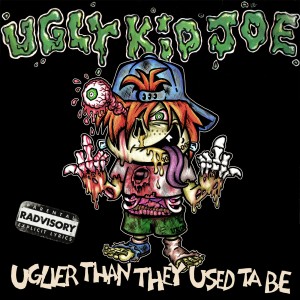 Hell Aint Hard To Find
Let The Record Play
Bad Seed
Mirror The Man
She's Already Gone
Nothing Ever Changes
My Old Man
Under The Bottom
Ace of Spades
Enemy
Papa Was A Rollin' Stone
September Tour Dates:

14th – Milton Keynes, Crauford Arms
15th – Manchester, Soundcontrol
17th – Glasgow, The Garage
18th – Nottingham, Rescue Rooms
19th – Wolverhampton, Slade Rooms
20th – Reading, Bowery District
22nd – Bournemouth, Sound Control
23rd – Plymouth, The Hub
24th – Bristol, Marble Factory
25th – Brighton, Concorde 2
26th – London, Underworld – SOLD OUT
27th – London, Underworld
For more information on tickets for the up and coming tour please see link: http://www.ticketmaster.co.uk/Ugly-Kid-Joe-tickets/artist/752642