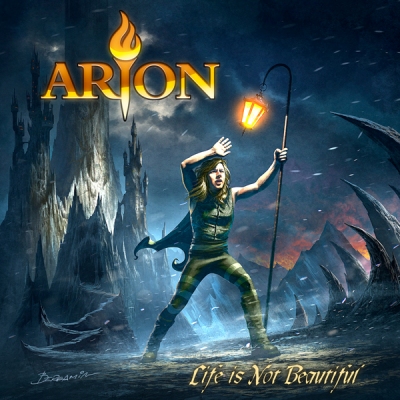 Finland's melodic metal act Arion have a new single 'Unforgiveable' out, ahead of their forthcoming album Life Is Not Beautiful due October 19th through ADF Records.
Lead by guitarist Iivo Kaipainen with vocalist Lassi Vääränen, Arttu Vauhkonen on keyboards, bass player Gege Velinov and drummer Topias Kupiainen the band have been around since 2011 when they were teenager – And most of them students a Helsinki's Sibelius musical high school.
Participating in Finland's Eurovision Song Contest with their song 'Lost' in 2013, the then unknown band ended up reaching #5 and shortly after were offered a deal by a Finnish label.
They released their debut album Last Of Us in 2014, a melodic power metal album following in the tradition of Finnish metal acts such as Stratovarius and Sonata Arctica. The last few years have found them busy on the live circuit while working on new material for their sophomore release Life Is Not Beautiful. 
Available on CD Life Is Not Beautiful will feature the tracks 'The End Of The Fall', 'No One Stands In My Way', 'At The Break Of Dawn' (featuring Elize Ryd), 'The Last Sacrifice', 'Through Your Falling Tears', 'Unforgivable', 'Punish You', 'Life Is Not Beautiful' and 'Last One Falls. The record will also be available on digipak where it wil feature the 2018 recorded bonus tracks 'Last Of Us', 'Seven' and 'I Am The Storm'.
Arion also have a video out for their new single 'Unforgiveable' that you can watch here at Ramzine.