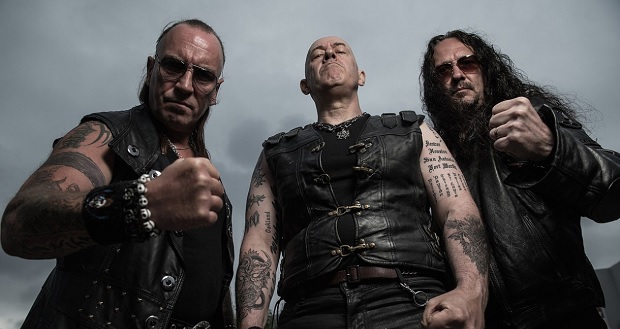 Following their storming album 'Ave' in 2017, metal legends Venom, Inc. has entered the studio to start on their new record.
This will be their second album as Venom, Inc.
Vocalist and bassist Tony 'Demolition Man' Dolin had this to say:
"I am a firm believer that you try to better yourself in life, not by comparison to anyone else but to yourself…
Making a new album, proudly under a label like Nuclear Blast, gives me that opportunity again…
If 'Avé' was a great album, then this new one needs to be even greater… if the performances on 'AVÉ' were the best we could be then, it will follow that we will outdo ourselves and be better than we were… We don't care how good or bad ANYONE else is… we are here to challenge ourselves. With the 3 of us in total synchronisation and firing every cylinder, we each have, expect something, intense, powerful, dark, spitting, visceral, foreboding, and no holds barred… HEAVY AS A FUCKING WORLD MADE FROM LEAD! Feel the Fire, Hear us Roar… for WE ARE VENOM INC!"
For a flavour of what Venom, Inc. are about, check out this storming performance from Bloodstock 2018:
Click here to hear the time we caught up with Tony 'Demolition Man' Dolin at Bloodstock 2018.
Demolition Man is also a contributor to the new audio series Heavier, Faster, Louder – which chronicles the origins of metal in the North East of England. In this Demolition Man talks about his time in Atomkraft and experiences as a young person in the NWOBHM era.