A Cannock based five-piece band, fronted by vocalist Rob Angelico, flanked by guitarists Jack Edwards and Luke Allatt, and propelled from the back by bass player Stuart Egan and drummer Brad Newlands, Piston have been making quite a noise over the last year or so.
Modern in sound and approach, listening to the record rather than just hearing them live you see Angelico's not singing about those hoary old subjects of sex, drugs or rock & roll so much, more mindfulness, relationships, anger management and doing what one believes to be right.
But, there's also a loud barrage of guitars so don't fret. Though to paraphrase Keef Richards on music today, there's a lot of rock, not so much the roll – Classic riffs have a question and answer musical counterpoint, but since the eighties a driving question has proved more prevalent in heavy metal, the responsive answer refrain more readily used in punk or other aggressively angry musical formats. I'll state from the start I like a bit of both, personally, so when they add a groove to their sound is when I most appreciate the band's songs.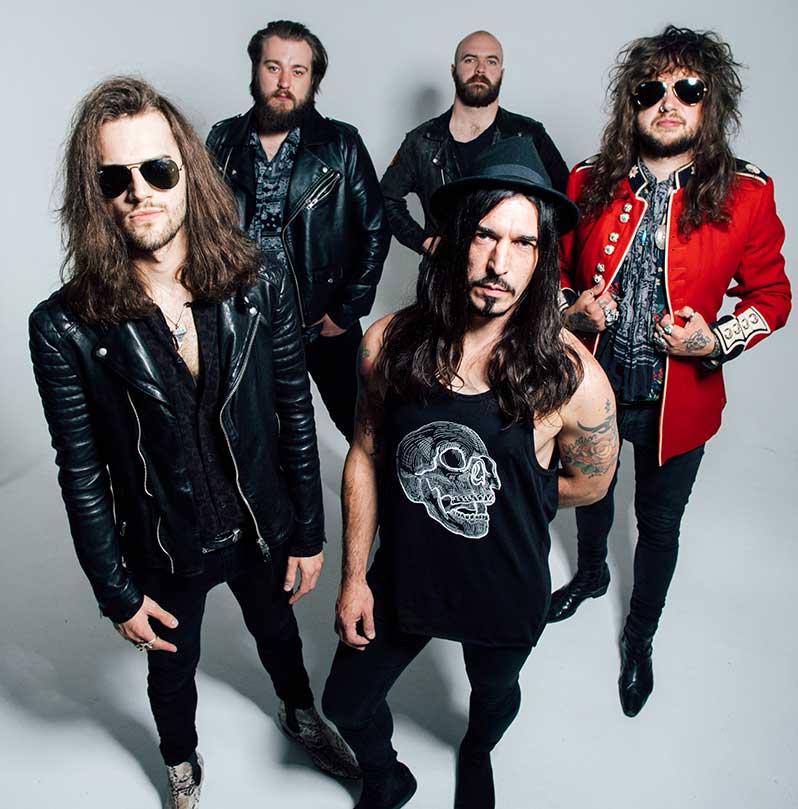 Their debut album opens with the self-belief of 'Dynamite', its football crowd style backing vocals echoing Slade, whose 'Mama We're All Crazee Now' they covered as Christmas single. The short stabbing of its riff is both aggressive and corrosive and features a guitar solo that sounds like a vintage synthesiser at work. It's followed by 'Rainmaker', an AC/DC chords style thrash intermingling with a more Red Hot Chilli Peppers head rush.
'Go Now' has a tumbling undertow of a groove, veering into rap rock, as it talks about following your heart and making decisions for yourself. A reverse concept in title anyway, 'Carry Us Home' is an acoustic ballad before the electrics kick in sweeping to and fro as a bronco riding rocker. A relationship number, Angelico has a soulful voice and they'd do well to take more advantage of that, as it allows his lyrical themes to come across more passionately.
Early single, 'One More Day' has a quirky urgent riff evoking The Cult, while 'Beyond Repair' shrugs about with a stubborn groove.
The angry 'Leave If You Dare' returns us to that rodeo rock feel, grinding deep, with some nice splashes of frenzied guitar, while 'Blow It Away' takes off like a rocket, and though sometimes veers off course has some pleasingly skewered guitar noises along the way.
'Let Us Rise' is metallic rock 'n roll, and probably unwittingly similar to the theme from Jesus Christ Superstar, while 'Don't You Get Me Wrong' is a mash-up between Ike & Tina Turner jamming with Creedence Clearwater Revival, demonstrating a favourable R 'n B flavour. 'Into The Night' is possibly musically the most interesting track, being both a battery of crashing chords, a broken chords riff turnaround and enough space left in between for things to breath with food for thought offered lyrically.
Many of the established bands I've listed as comparisons have all had mainstream and rock hits in their day, and it's noticeable that the two additional radio remixes on this record bring out subtleties and more interesting nuances present within the band that sometimes get a little lost. Should they progress further in such directions who knows what they might achieve.