Advocates are a metalcore group formed in Auckland, New Zealand in 2010. Next year, they look forward to releasing their debut album, beginning their headlining home country tour along with numerous European tour dates and festival appearances, which isn't bad for a band that only formed 3 years prior. However for now they have graced us with an 8-track sampler, mini-album, taster, whatever you may call it entitled Mindless which gives us an indication of why these guys are poised to become the new coming stars of 2013.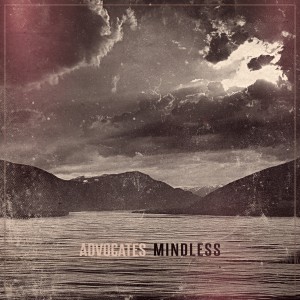 Throughout Mindless there are all the typical conventions of metalcore; you've got your breakdowns, your heavy chugging riffs as well as the occasional moments of melodic guitars and piano instrumentals. And yet as conventional as it is, it still has a very original vibe. Most tracks on Mindless don't even exceed three minutes but you would be surprised how much intensity can be packed into one song. Opening tracks Mindless and Kings both seamlessly blend between high tempo and almost thrash-like riffs that keep a technical element and slow chugging guitars. Along with Giants and its call of 'we are giants', all three tracks seem to be crafted for an incredible live show but equally contribute to a more raw feel for the rest of the mini-album.
Mindless does, however, have another more varied side to it. Advocates seem to be huge fans themselves of incorporating a tonne of groove into their riffs, most evidently in their song Deadweight which always keeps groove elements in the background. Collectively, this blend of technical metalcore and groove create a 99.9% unrelentingly brutal mini-album, breaking only for a short piano outro during At War With Wolves.
A lot of artists seem to get praised for pushing the boundaries of their style, which sometimes is a very good or a very bad thing. Although this time round, Advocates have proved there is nothing wrong and much to gain from taking a fairly explored style and making something especially unique by only changing a few small details. We very much look forward to the release of the debut full length which will no doubt build upon the amazing sound presented in Mindless.
8/10